Top 10 Fastest Cars Under $20K That Let You Enjoy Fastlane on a Budget
If the need for speed runs in your veins but your wallet's feeling the pinch, fret not! My latest blog post is a one-way ticket to the fast lane without sacrificing your savings and can fulfill your urge to explore fast cars for less than $20K. From sport sedans and muscle cars to fierce coupes, I've assembled an impressive lineup of the fastest cars under 20k that can outpace the competition and leave you grinning from ear to ear. Let's expand and explore our "Best of the Best" collections on HighStuff.com
List Of 10 Fastest Cars Under $20K
Embark on a thrilling journey with our handpicked collection of top-notch, yet affordable speedsters under $20k.
1. 2007 to 2015 BMW 335i
Writing this post without acknowledging one of my top picks – the BMW 335i- won't be fair. Its factory performance, boasting 300 horsepower and 300 torque, may not stun you in 2023. Nevertheless, the 335i secures its spot among the fastest-used cars for reasons beyond sheer power.
Models from 2007 to 2010 come equipped with the N54 twin turbo 3.0L inline-6 powertrain, while the more recent 2011-2015 335i iterations feature the N55 single turbo 3.0L inline-6 engine. Both provide an equal 300 horsepower and 300 torque from the factory. Our primary emphasis lies on the older twin-turbo N54 engine models, as the newer N55 is also favored among tuners but lacks the iconic status of the N54. However, that is good enough to beat its close competitor – the 2014 Infiniti Q50.
The BMW N54 engine displayed remarkable performance in its time, and even today, it remains a strong contender against high-end cars, offered at a budget-friendly price under $20k. The 2007 model takes 5.3 seconds to accelerate from 0 to 60 mph and hits a top speed of 155 mph (electronically limited).
Achieving 500 horsepower with stock turbos is quite impressive, but what's even more amazing is that you can reach the same output for a mere $1,500 in mods on the BMW 335i, and the engine won't even be strained.
By incorporating turbo and fuel system enhancements, the N54 engine can maintain a substantial 600-700whp reliably over time, provided there's a well-designed configuration with appropriate supporting modifications, fueling, and tuning. Despite the starting cost of the N54 335i at approximately $5,000-8,000, achieving this setup can be accomplished for under $20k. Pushing the N54 to 900-1,000+whp with a built engine may prove significantly costlier and might strain the budget.
Engine Specs and Price:
| | |
| --- | --- |
| Engine | N54 twin turbo 3.0L inline-6 |
| Power | 300 hp |
| Torque | 300 lb-ft |
| 0 to 60 mph | 5.3 seconds |
| Top Speed | 155 mph |
| Original MSRP | $40,800 |
| Avg. Used Price | $5,000 – 20,000 |
2. 2004 Pontiac GTO
Discover a unique model not available anywhere else except in the pre-owned automobile market. The fifth-generation Pontiac GTO had a brief existence of merely two years before it got discontinued, leaving limited time to leave a lasting impact. Yet, it managed to assert its formidable presence.
Pontiac offered the GTO with a pair of engines in a brief two-year span- the LS1 and the LS2. Fortunately, you have the freedom to select the engine of your choice with your $20k budget.
The fifth-gen Pontiac GTO truly lived up to expectations being the final model carrying the renowned "GTO" badge, mainly due to a potent 5.7-liter V-8 engine pumping out 350 horsepower and 365 pound-feet (@ 4000 rpm) of torque.
Although not the most aesthetically appealing back in the day, it certainly boasted impressive power, catapulting from 0-to-60 mph in 5.3 seconds with a top speed of 160 mph.
While it is undoubtedly one of the best fastest cars under $20K, you still need prior history scrutiny before buying.
Engine Specs and Price:
| | |
| --- | --- |
| Engine | 5.7-liter V-8 |
| Power | 350 hp |
| Torque | 365 lb-ft |
| 0 to 60 mph | 5.3 seconds |
| Top Speed | 160 mph |
| Original MSRP | $31,795 |
| Avg. Used Price | $10,163 |
3. 2010 Mitsubishi Lancer Evolution
In contemporary times, Mitsubishi's reputation may not be at its peak, but amidst this, there exists a model that continues to enchant sports car enthusiasts across the globe – the Mitsubishi Lancer Evolution. Running from 1992 to 2016, this vehicle retains its status as an unparalleled all-wheel-drive performance car in the industry.
It is an impressive accolade for a car manufacturer that faced challenges in establishing a solid market presence for over twenty years. The Lancer Evo offers both speed and excitement behind the wheel and is equipped with a 2.0-liter turbocharged four-cylinder engine making up to 291 horsepower and 300 pound-feet of torque and boasting an all-wheel-drive system.
Engine Specs and Price:
| | |
| --- | --- |
| Engine | 2.0-liter four-cylinder |
| Power | 291 hp |
| Torque | 300 lb-ft |
| 0 to 60 mph | 4.5 seconds |
| Top Speed | 146 mph |
| Original MSRP (Lancer Evolution MR) | $38,990 |
| Avg. Used Price | $17,406 |
4. 2003 Mercedes-Benz E55 AMG
In 2003, this remarkable 5.4-liter supercharged V8 sedan debuted, creating an impressive 469 hp and 516 lb/ft torque, leaving a lasting impact on all who experienced it.
Once you remove its factory speed restriction of 155 mph and equip it with suitable tires, you may be able to reach exhilarating speeds of up to 205 mph.
With innovative attributes like the dynamic air suspension, this opulent cruiser doesn't just excel at impressive burnouts; it sprints from 0-60 in a mere 4.4 seconds! You can acquire it for as low as $10k, but bear in mind that maintenance expenses might not come as easy on the wallet.
We admire the innocence of these beasts, appearing nearly indistinguishable from a regular Merc on the outside.
An astounding all-rounder for $20k, but considering the E55 AMG's age of nearly two decades, you must ensure sufficient savings for possible future concerns.
Engine Specs and Price:
| | |
| --- | --- |
| Engine | 5.4-liter V-8 |
| Power | 469 hp |
| Torque | 516 lb-ft |
| 0 to 60 mph | 4.4 seconds |
| Top Speed | 155 mph |
| Original MSRP | $74,000 |
| Avg. Used Price | $10,000 |
5. 2011 to ~2016 Ford Mustang GT
The Ford Mustang truly stands out as one of the most exceptional GT cars, and my personal favorite remains the 5.0 Coyote engine found in the 2011+ Mustang GT. Ford made some noteworthy enhancements to the engine, introducing the 2nd gen version in 2015, followed by the impressive 3rd gen 5.0 Coyote in 2018. While the 3rd gen engines are undeniably remarkable, acquiring a pristine 2018+ GT would set you back around $25-30k. However, the earlier 5.0 Coyote engines still deliver outstanding performance and represent an excellent value, priced below $20,000.
The 5.0 Coyote possesses brute power and impressive power and performance potential with modifications. While newer generations boast even greater capabilities, early models can reach approximately 400whp through simple bolt-on alterations. You can possibly discover a well-maintained Mustang GT priced at $15,000, leaving some extra cash for further upgrades. However, aiming for a 2014+ model might exceed the $20k budget unless you opt for a lower-condition, higher-mileage option.
In any case, the Mustang GT 5.0 Coyote maintains an output of more than 400 horsepower from its factory setting, resulting in a 0-60 time ranging from approximately 4.3 to 4.6 seconds, which may vary with factors like gearing, transmission, and road conditions. Furthermore, the GT stands out by not being as heavy as certain other American muscle cars, ensuring commendable handling capabilities.
If you adhere to a budget of $20,000, the Mustang GT may not rank as the fastest car here, but once you recoup your finances, the 5.0 Coyote proves to be a competent engine, efficiently achieving 550-600+whp with supercharger kits, all well within safe limits.
You can also have it in convertible guise; the 2016 Mustang could easily be one of the best convertibles on this list, along with the following fast car from Chevy.
Engine Specs and Price:
| | |
| --- | --- |
| Engine | 5.0-liter Coyote V-8 |
| Power | 412 hp |
| Torque | 390 lb-ft |
| 0 to 60 mph | 4.3 to 4.6 seconds |
| Top Speed | 155 mph |
| Original MSRP | $29,645 |
| Avg. Used Price | $15,000 – 20,000+ |
6. 2014 Chevrolet Camaro SS
Following an eight-year break, the fifth-gen Chevy Camaro made a significant impact on the market. Boasting the cutting-edge LS engine – the LS3 – generating 426 hp and 420 lb/ft of torque from its 6.2L powerplant, its tunability opened doors to impressive four-figure outcomes. Equally vital were the Camaro's performance metrics, with the SS accelerating from 0 to 60 mph in a mere 4.6 seconds, reaching a capped top speed of 155 mph.
The Camaro SS remains a top pick among enthusiasts looking for high-performance budget cars under $20,000, boasting a self-reliant four-wheel suspension and Brembo brakes, alongside an array of thrilling features like launch control.
Its popularity is well-deserved and likely to maintain strong resale value in the coming years.
For a more budget-friendly speed demon, consider the LS with entry-level choices starting at approximately $17k, leaving room to unlock its potential!
Engine Specs and Price:
| | |
| --- | --- |
| Engine | 6.2-liter V8 |
| Power | 350 hp |
| Torque | 365 lb-ft |
| 0 to 60 mph | 4.6 seconds |
| Top Speed | 155 mph |
| Original MSRP | $37,155 |
| Avg. Used Price | $17,502 |
7. 2015 Scion FR-S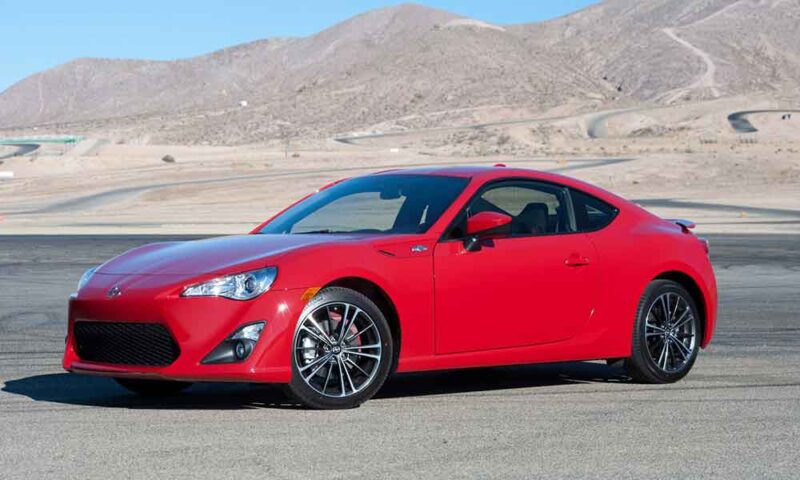 Thanks to partnering with Subaru on the BRZ, the Scion FR-S emerged as a close relative, albeit with fewer standard features. The intention is to prioritize what truly matters to you: an exceptional driving experience in one of the cheapest sports cars on this list.
The Scion FR-S retains its 2.0-liter flat-four engine, yielding 200 horsepower and a maximum torque of 151 pound-feet.
Let it loose on the track and it will hit 60 mph in 6.2 seconds and complete a quarter-mile run in under 15 seconds. The FR-S, with its rear-wheel drive setup, proves to be an excellent choice for enthusiasts seeking a well-crafted drift car. In fact, it could be one of the best drift cars for beginners.
Engine Specs and Price:
| | |
| --- | --- |
| Engine | 2.0-liter flat-four |
| Power | 200 hp |
| Torque | 151 lb-ft |
| 0 to 60 mph | 6.2 seconds |
| Top Speed | 136 mph |
| Original MSRP | $24,990 |
| Avg. Used Price | $12,933 |
8. 2012 Mercedes-Benz E-Class E63 AMG
The E63 AMG stands as the preferred choice in Europe for enthusiasts seeking a powerful ride in the absence of a classic American muscle car. Sporting a formidable 5.5-liter twin-turbo V8 churning out 518 horsepower, it remains a cost-effective option for high-speed straight-line performance. Removing the electronic limiter allows this model to reach an impressive top speed of 200 mph. That's far from the best supercars, but still healthy to quench the thirst of your speed demon.
Engine Specs and Price:
| | |
| --- | --- |
| Engine | 5.5-liter twin-turbo V8 |
| Power | 518 hp |
| Torque | 516 lb-ft |
| 0 to 60 mph | 6.2 seconds |
| Top Speed | 200 mph |
| Original MSRP | $87,000 |
| Avg. Used Price | $19,000 – $22,000 |
9. 2016 Dodge Charger
If you seek sheer unbridled force, the Charger merits a prime spot in your considerations. Numerous engine choices were available, but the budget-friendly one entails a 292-horsepower V-6 engine coupled with an eight-speed automatic transmission propelling the rear wheels. If fortune favors, an all-wheel-drive variant might be within reach too.
The Charger provides generous room for both front and rear passengers, and to top it off, it offers a remarkably sizable cargo area, enabling you to effortlessly transport luggage for a week-long family vacation.
Engine Specs and Price:
| | |
| --- | --- |
| Engine | 3.6-liter V-6 |
| Power | 292 hp |
| Torque | 260 lb-ft |
| 0 to 60 mph | 6.5 seconds |
| Top Speed | 155 mph |
| Original MSRP | $27,995 |
| Avg. Used Price | $13,193 |
10. 2008 Impreza Subaru WRX STi
The Subaru Impreza WRX STi holds a special status owing to its revered 2.5-liter four-cylinder boxer engine, producing over 300 horsepower, which pairs harmoniously with a six-speed manual transmission, transferring the power to all four wheels, culminating in an exhilarating driving experience on the streets.
It's quite a solid choice in your possession, and acquiring a pre-owned Subaru WRX STI can be more feasible than perceived, contingent on the year and trim. Models from 2008 are available within this price range, and occasionally, you may even stumble upon some 2010 variants; nonetheless, I advise a comprehensive inspection.
Engine Specs and Price:
| | |
| --- | --- |
| Engine | 2.5-liter four-cylinder |
| Power | 305 hp |
| Torque | 290 lb-ft |
| 0 to 60 mph | 5.1 seconds |
| Top Speed | 151 mph |
| Original MSRP | $34,995 |
| Avg. Used Price | $14,475 |
Final Words About Fastest Cars Under $20k
Finding the ideal solution for the finest, fastest cars under 20K remains elusive. Given the abundance of remarkable performance vehicles in this range, it's nearly impossible to include all of them. Moreover, accurately determining the absolute fastest used cars becomes challenging, considering budget-based customizations and modifications.
Still, the list above serves as an excellent foundation, showcasing some of the quickest cars under $20k. Within it, you discover a range of options, spanning from modern budget-friendly models to powerful German sedans hailing from the early 2000s. Moreover, there's a fantastic selection of JDM tuner-friendly cars and classic American muscle cars, leaving no preference unaccounted for.
Our Fastest Car Under 20K Winner
That said, I will vote for the Mustang if I have to pick one fast car on this list. It is quickest on its toes and is available in a number of engine options and body styles to suit the needs of a wide range of car enthusiasts. And remember its potential for modifications.
Besides, certain Mustang GTs can potentially become a classic in the future or just be sold for an exorbitant price. For instance, the original prototype of the 2020 Shelby Mustang GT500 was sold for $1.1 million in an auction. And if we go for classics like the 1968 Ford Mustang GT390 from the famous film Bullitt, it garnered $3.4 million at an auction.
Word of advice: For a speedy and affordable fast car, keep in mind that reliability is crucial, so budget for maintenance, potential problems, and modifications for brute power. With a wide array of choices available, go for the car that truly resonates with you.
So, what is your favorite sub-$20k fast car? Share in the comments, please!
| | | | | |
| --- | --- | --- | --- | --- |
| Car Model | Engine Specs | 0 to 60 mph (seconds) | Top Speed (mph) Avg | Avg. Used Price (USD) |
| BMW 335i (2007-2015) | N54 twin turbo 3.0L inline-6 | 5.3 | 155 | $5,000 – $20,000 |
| Pontiac GTO (2004) | 5.7-liter V-8 | 5.3 | 160 | $10,163 |
| Mitsubishi Lancer Evo | 2.0-liter four-cylinder | 4.5 | 146 | $17,406 |
| Mercedes-Benz E55 AMG | 5.4-liter V-8 | 4.4 | 155 | $10,000 |
| Ford Mustang GT (2011+) | 5.0-liter Coyote V-8 | 4.3 – 4.6 | 155 | $15,000 – $20,000+ |
| Chevrolet Camaro SS (2014) | 6.2-liter V8 | 4.6 | 155 | $17,502 |
| Scion FR-S (2015) | 2.0-liter flat-four | 6.2 | 136 | $12,933 |
| Mercedes E63 AMG (2012) | 5.5-liter twin-turbo V8 | 6.2 | 200 | $19,000 – $22,000 |
| Dodge Charger (2016) | 3.6-liter V-6 | 6.5 | 155 | $13,193 |
| Subaru WRX STi (2008) | 2.5-liter four-cylinder | 5.1 | 151 | $14,475 |
news via inbox
Sign up and never miss out on the latest news and updates at HighStuff