10 Cheap Sports Cars Under $45K You Should Consider in 2023
Looking to compare prices of brand-new cars and contemplating how you'll manage to purchase a new sports car? Fret not; a wide range of enjoyable and cheap sports cars are currently available for purchase. We have handpicked the finest options, listing the top 10 among them.
The factor we have considered: Our grading of affordable sports cars is determined by the initial cost of the least expensive variant of a particular model. Individuals searching for a sports car with the best value should take into account additional expenses beyond the buying price. These include the residual value, insurance, fuel economy, and maintenance, providing a comprehensive understanding of the overall ownership and operational costs associated with a particular sports car.
10 Affordable Sports Cars of 2023
Rev up your excitement with these 10 affordable sports cars of 2023, combining performance and affordability for the ultimate driving experience without breaking the bank.
2023 Chevrolet Camaro – From $26,400
The 2023 Chevrolet Camaro showcases a striking vintage design that will surely captivate muscle car fans. With its substantial power, the Camaro effortlessly navigates the streets, embodying the spirit of a classic American sports car.
The entry-level 1LS model offers impressive performance as well, courtesy of a 2.0-liter turbocharged four-cylinder, spawning 275 horsepower and 295 pound-feet of torque. It comes with an affordable price tag starting at $26,400, but some compromises are noticeable in certain aspects of the vehicle. For instance, rear visibility is limited, and the back seats are quite compact, providing little room for passengers.
It looks as stunning in blue as many others on this list.
2023 Ford Mustang – From $27,770
The Ford Mustang comes at the top of U.S. News sports car listings, showcasing excellent performance across all its powertrain options.
The entry-level Mustang employs a four-cylinder turbocharged engine that churns out a remarkable 310 horsepower. Optional engine choices extend up to a powerful V8 with 470 horsepower. Irrespective of the powertrain, the Mustang's exceptional chassis tuning and handling transform it into a captivating and enjoyable driving experience, regardless of your speed.
Stick-shift is optional, enhancing the car's dynamic and exhilarating driving feel. Moreover, the rear-wheel-drive configuration offers ample opportunities to unleash the vehicle's power when accelerating aggressively.
The peppy base engine has one minor drawback—the sound it produces. Understandably, the four-cylinder engine lacks the exhilarating roar of a V8 we find in supercars. However, aside from this aspect, potential buyers hardly compromise on anything, positioning the Mustang as an excellent choice among the best budget sports cars.
Plenty of mods are available for the Mustang to make it look unique and perform better.
2023 Mazda MX-5 Miata – From $28,050
Internet users have a consensus that the Miata is consistently the preferred choice. This opinion is widely held due to its consistent performance and affordability. For numerous years, the Miata has remained the top selection for budget-friendly sports car enthusiasts who derive pleasure from the art of driving.
Its trivial weight and the natural equilibrium of the framework culminate in providing an exceptional driving encounter in today's automotive industry, irrespective of its cost. Add to that the delightful 181-hp 2.0-liter four-cylinder engine and impressive six-speed gearbox, and you'll find what numerous experts consider to be the ultimate contemporary sports vehicle.
2023 Toyota GR86 – From $28,400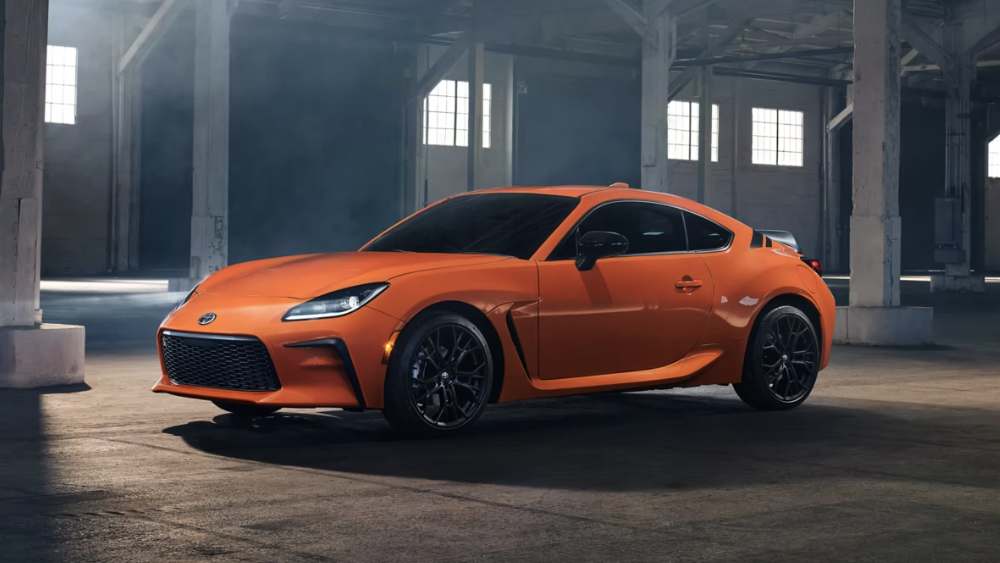 In an era where finding specialized performance platforms is increasingly rare, Toyota's GR86 emerges as a beacon of optimism. Its uncomplicated, featherweight structure and rear-wheel drive configuration provide immense pleasure in navigating curves both on and off the racetrack.
In 2022, the 86 underwent significant enhancements, including a refreshed front design, an upgraded interior, and, notably, increased engine capacity in its boxer-four configuration. The result was a power boost to 228 horsepower, which is ample for a lightweight vehicle tipping the scales at less than 3,000 pounds.
2023 Subaru BRZ – From $28,595
The BRZ stands out as the sole Subaru vehicle currently available, offering rear-wheel drive as a standard feature. This impressive competitor in the realm of sports cars on a budget is accessible in two variants – Premium and Limited.
The BRZ stands as Subaru's top-notch, affordable sports car, available for acquisition with a monthly payment as low as $479 over a 60-month period at an APR of 2.49%, along with a down payment of $1,999.
The 2023 BRZ features a 2.4-liter flat-4 engine yielding the same horsepower as its twin brother GR86, replacing the previous 2.0-liter flat-4 engine. According to tests conducted by independent sources, the BRZ with manual transmission achieves a 0-60 MPH acceleration in 5.9 seconds, while the automatic variant does the same in 6.6 seconds.
It achieves a standing quarter-mile time of 14.3 seconds in the performance space.
2023 Volkswagen GTI – From $30,530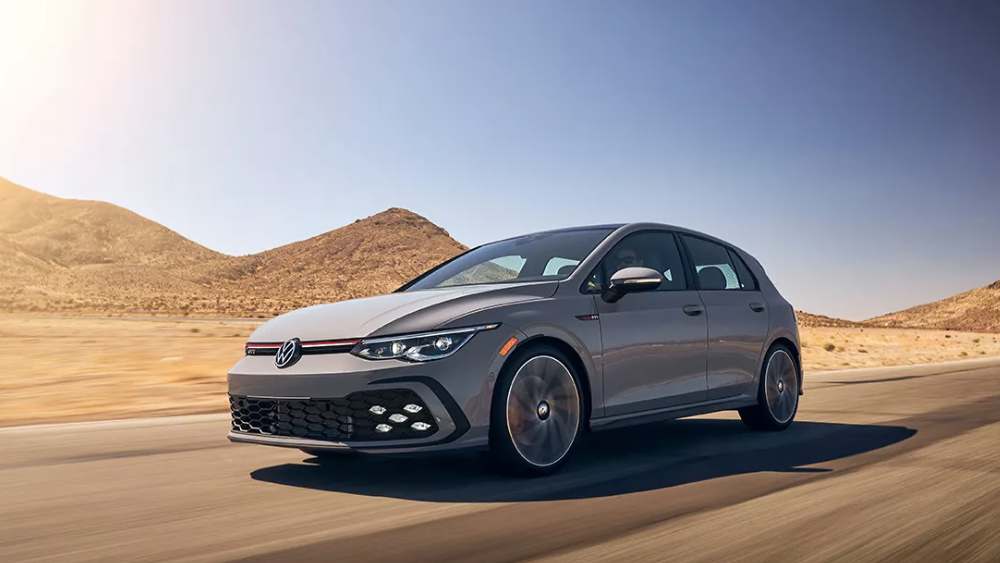 The 2022 iteration of the Volkswagen GTI underwent a revamp, showcasing enhanced performance, superior maneuverability, and updated technological features. Nevertheless, it remains the beloved, finely-tuned hot hatch enthusiasts have cherished for several years.
Beneath the surface, the GTI conceals a lively powertrain consisting of a turbocharged 2.0-liter four-cylinder motor generating 241 ponies and 273 pound-feet of torque. You can pair this powerplant with either a six-speed manual or a seven-speed dual-clutch automatic transmission. Whichever option you select, you can expect seamless and prompt acceleration from the GTI. Furthermore, the spirited four-cylinder engine emits an exhilarating sound during its performance.
The compact car offers precise maneuverability and maintains stability while taking turns at faster velocities, courtesy of its limited-slip differential and strong traction. The top-level Autobahn variant sports 19-inch wheels and high-performance tires for warmer seasons. Nevertheless, the S and SE trims, with their 18-inch wheels and dependable all-season tires, also deliver exceptional performance and handling.
2023 Dodge Challenger – From $30,545
Dodge has decided to discontinue the Challenger by the close of 2023, much to the chagrin of automotive enthusiasts. This news has resulted in individuals willingly paying an additional $100,000 above the sticker price for the 2023 Dodge Challenger SRT Demon 170. With the brand focusing on its upcoming electric offerings, there exists a chance to acquire the last remaining "regular" Challenger for a modest sum of $30,545, thus avoiding exorbitant markups.
The entry-level SXT model creates an impressive output of 303 horsepower and 268 pound-feet of torque thanks to its 3.6-liter V6 engine. However, for those seeking even more power, there's an enticing alternative: the non-turbocharged V8 variants of the Challenger. By selecting this option, you'll acquire a vehicle that excels both on regular roads and drag strips. We firmly believe that the forthcoming 2023 Challenger Black Ghost has the potential to become a timeless masterpiece.
2023 Subaru WRX – From $30,605
Completely revamped in the previous year, the Subaru WRX boasts a distinct and debated design, yet its rich history and impressive driving capabilities are universally acknowledged.
The latest WRX model boasts a robust 2.4-liter four-cylinder turbo mill, making 271 horsepower and 258 pound-feet of torque. As the default option, a six-speed manual transmission complements this powerhouse, providing a seamless driving experience. However, those seeking an alternative have the choice to select a continuously variable automatic transmission (CVT).
In addition to the powertrain, the WRX includes Subaru's unique all-wheel-drive system as a standard feature. The brand's rich history in motorsports and remarkable achievements in rallying have bestowed upon it a legendary status, with the vehicle embodying every aspect of this esteemed heritage.
2023 Hyundai Elantra N – From $34,015
The Elantra N boasts a robust 2.0-liter four-cylinder engine with a turbocharger, offering a notable output of 276 horsepower and 289 pound-feet of torque. The power seamlessly transfers to the front wheels by either a six-speed manual or an eight-speed dual-clutch automatic transmission.
Hyundai incorporates a firm suspension and innovative drivetrain technology to enhance traction and provide impressive performance and handling for this front-wheel-drive vehicle. The Alcantara bucket seats ensure passenger stability during exhilarating drives, and the vehicle emits an inspiring sound when the throttle is pushed to its limits.
Simultaneously, the Elantra N demonstrates excellent suitability for everyday use, just like its "standard" Elantra counterpart. Its trunk offers ample space, while the backseat bestows comfortable seating for both adults and children in car seats.
2023 Toyota GR Supra – From $43,540
There was a lot of debate surrounding Toyota's launch of the A90 Supra. Some were skeptical due to its resemblance to the Toyota FT-1 Concept Car, which had generated significant anticipation. Additionally, the Supra faced the challenge of living up to high expectations. It also comes with a slightly higher price tag than its closest competitor, the Z, without considering the top-tier model.
Toyota responded to its customers' requests who desired a manual transmission, considering that previous Supra models exclusively featured an eight-speed automatic transmission. The entry-level Supra 2.0 derives its power from a 2.0-liter turbo four, pumping out 255 horsepower and 295 pound-feet of torque. We can confidently state that the 2023 Toyota GR Supra has effectively silenced critics, demonstrating its remarkable engineering as one of the top affordable sports cars on this list.
news via inbox
Sign up and never miss out on the latest news and updates at HighStuff