From Sapphire to Electric – Discovering the Vibrant World of Blue Cars!
No matter how trivial it may appear, the choice of your vehicle's color holds significance. Our automobiles often serve as reflections of our identities, and the external paint color can be a particularly revealing aspect of personal expression. So, do you prefer a discreet presence with a classic black, or do you crave the attention that only a vibrant red can command on the road? White can make your vehicle resemble a mundane household appliance, while silver is deemed excessively safe. However, blue has been gaining popularity as an exterior color choice. In particular, navy blue cars possess the remarkable ability to lend an air of luxury to affordable vehicles and a sense of maturity to playful ones.
Presented here are ten blue cars that can uplift your spirits on a mundane Monday and evoke an irresistible desire to embark on a road trip immediately because the color of your vehicle holds greater significance than meets the eye.
Beat Your Monday Blues with 10 Stunning Blue Cars
1. Acura TLX Type S – Long Beach Blue
Although the Long Beach Blue color has been previously featured on the Acura NSX since 2021, it now makes its debut on the TLX Type S through the new PMC Edition. Alongside shades such as 130R White and Curva Red, the PMC Edition TLX also boasts 20-inch wheels with a copper finish and stylish black roof accents.
2. Cadillac CT4-V and CT5-V Blackwing – Electric Blue
Two cars as exhilarating as the CT4-V and CT5-V Blackwing deserve an exciting new color scheme to complement their aura. The aptly titled Electric Blue can be selected for an additional $625 on either of these models, along with other vibrant options such as Blaze Orange and Infrared. However, this electric blue car stands out as our favorite among all the choices.
3. Lucid Air – Sapphire Blue
The available color choices for the Lucid Air are somewhat limited in variety. However, a captivating Sapphire Blue shade was introduced with the latest triple-motor Sapphire Edition during its unveiling in Monterey last year. This distinct paint option is exclusively offered on the highest-tier model.
4. Bentley Bentayga – Peacock Blue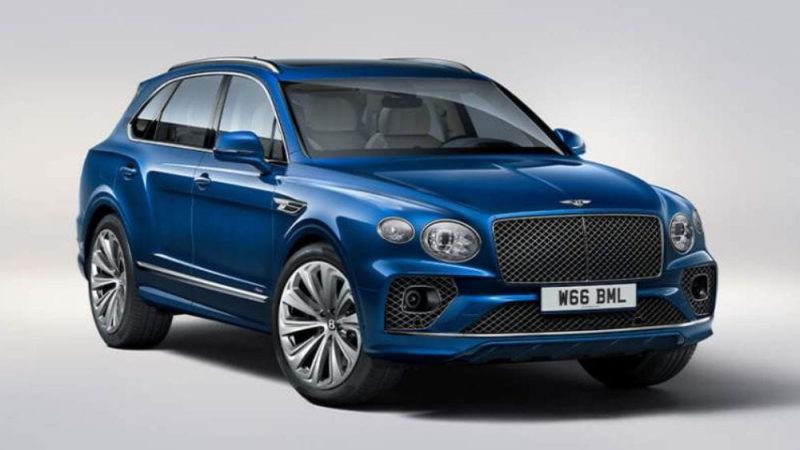 If you possess a sufficient amount of funds, you have the freedom to select from an extensive range of blue exterior paint hues for your brand-new Bentley Bentayga. Being the inaugural SUV model from the prestigious British automaker, the Bentayga appears remarkably captivating in Peacock Blue, as shown in the accompanying image. Nevertheless, Bentley presents an outstanding selection of 24 different blue hues solely for this vehicle, among a grand total of 121 available choices. The navy blue SUV debuted at dealerships in July 2016 with an initial price tag of $229,100.
5. BMW M4 – Mexico Blue
BMW has impressed enthusiasts with its remarkable selection of vibrant hues, mainly through the exclusive offerings of BMW Individual Manufaktur. Let's take a moment to appreciate the striking Mexico Blue showcased in the image on the M4 Competition Coupe. This blue race car, equipped with xDrive all-wheel drive, is sure to bring joy to drivers fortunate enough to experience it firsthand.
6. Volkswagen Golf R – Deep Blue
The Golf R and Blue have always been a perfect match, starting from the time when the first R32 hit the roads almost two decades back. It's like a long-standing custom. The most recent version showcases a shade of blue that carries the classic essence we've grown accustomed to seeing on this dynamic hatchback. And it's still a scorching drive.
Plenty of affordable mods are available to improve this blue car's appearance and performance.
7. Ford GT – Liquid Blue
Presented in Liquid Blue, this mesmerizing supercar unquestionably defies the concept of being "scorching hot." When Ford initially revealed the 2017 GT to the public at the 2015 Detroit Auto Show, its grand entrance was adorned in this exquisite shade of deep blue. We perceive this departure from the typical performance color palette of white, red, and even yellow as a refreshing deviation. By showcasing itself in this hue, this blue sports car introduces a captivating facet to what we conventionally consider a reserved and traditional shade. The Ford GT graced dealership floors in 2016.
8. Hyundai i30 N – Baby Blue
In recent times, Hyundai has gained significant recognition for its utilization of a captivating shade of light blue paint. This surge in popularity can be attributed to the introduction of its 'N' performance line. Among the initial offerings was the Hyundai i30 N, an impressive compact car designed to compete with renowned vehicles such as the Volkswagen Golf GTI. Hyundai's offering presents an enticing alternative to the Golf, combining speed and enjoyment with practicality and everyday comfort.
9. Audi Q3 – Light Blue
It's interesting to consider the inspiration behind Audi's choice of color name, 'Turbo Blue.' While some may speculate that it was influenced by the speedy snail character from the 2013 animated film 'Turbo,' we can't be certain. Nevertheless, Turbo Blue stands out as a vibrant light blue shade among Audi's color offerings. It is exclusively used for select models within the S line range, which are known for their high specifications. Audi provides various powerplant options, including petrol, diesel, and even a plug-in hybrid.
The superiority of the Q3 SUV is evident in its sophisticated design and elegant interior. Audi has introduced an exceptional feature called the 'Virtual Cockpit,' which replaces conventional circular gauges with a spacious digital screen.
10. Mercedes A-Class – Unusual Blue
The Mercedes A-Class stands out as a delightful option, being among the finest premium hatchbacks available. This cool blue car's appeal extends beyond young professionals, evident from its position as the UK's second most sought-after new car in 2021. Let's delve into its standout qualities: an exceptional interior, elegant design, and a range of fuel-efficient engines. Furthermore, it offers high-performance variants, designated as A35 or A45 S models.
The attention-grabbing aspect of this blue vehicle is undoubtedly its interior, which Mercedes refers to as 'MBUX.' One can't help but notice the prominence of two wide screens on the dashboard, displaying essential information like vehicle speed and the current radio station. Among the impressive capabilities of this system is its advanced voice control, capable of comprehending commands like 'I'm feeling chilly.'
FAQs
Why is the color blue considered favorable for cars?
People often choose Blue as a car color due to its ability to conceal dust and dirt effectively. When clean, it can exhibit a glossy appearance. Additionally, blue cars have an average resale value and are associated with positive qualities.
How popular is the color blue for cars?
Although not as prevalent as black, white, silver, or gray, blue remains among the most popular car colors worldwide. Recent studies indicate that approximately 9% of cars manufactured globally and 15% of sports cars in North America are blue.
What does owning a blue car imply?
In some regions, a 'blue' title may indicate that a car has undergone significant damage from an accident or a natural disaster. However, this distinction is unrelated to the paint color itself. Generally, owning a blue car might suggest that the owner appreciates being recognized for their wisdom and self-expression.
Do blue cars experience faster fading?
No, no evidence supports the notion that blue cars fade more quickly than vehicles of other colors. Scientifically speaking, no specific color has been proven to fade at a different rate than others. However, our human perception tends to notice the fading of vibrant or dark colors more readily than lighter ones. Nonetheless, this does not imply that they actually fade at a faster rate.
news via inbox
Sign up and never miss out on the latest news and updates at HighStuff