What are the Cheapest Bugatti Car Models of the 21st Century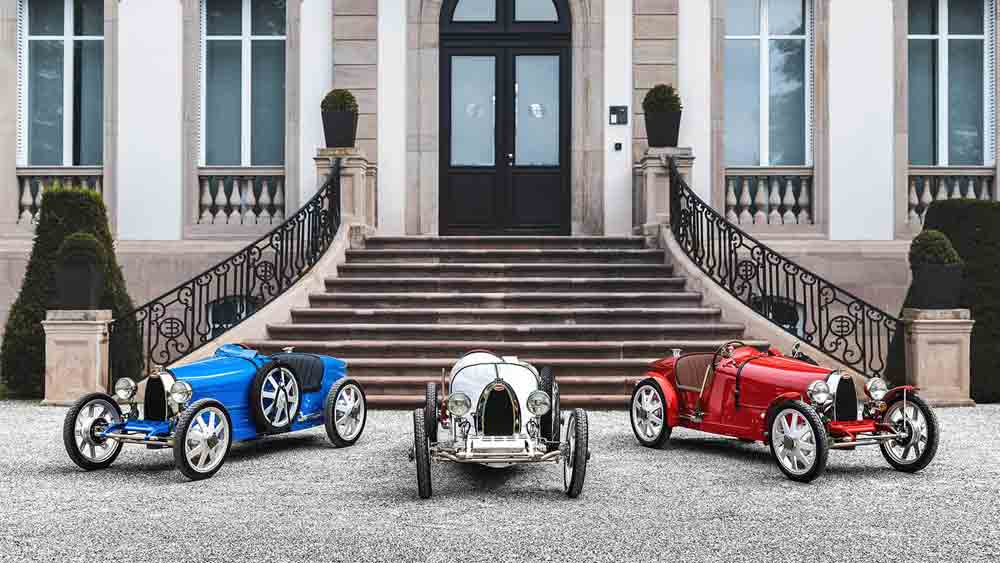 Bugatti's name is synonymous with 'expensive,' 'luxurious,' 'superfast,' 'exceptionally designed,' and 'Best of the Best' (just like HighStuff.com). While there could be many other unique words we can relate to the brand, a 'cheap Bugatti' could only be envisioned in dreams. Still, if you are looking for the cheapest Bugatti in the world, I will reveal that today.
The Bugatti Baby II is, factually, the cheapest Bugatti produced by the automaker in recent times. I am sure you would want to know how much is the cheapest Bugatti. Well, it was priced at $34,000, and Bugatti only produced 500 examples.
After the Baby II, the second cheapest Bugatti was the Veyron, which came with an initial price tag of $1.9 million.
Let's discuss two of the cheapest Bugatti models of the 21st century.
Unearthing the Unthinkable – The Quest for the Cheapest Bugatti Car Models
Bugatti Baby II – Starting Price $34,000
Bugatti marked its 110th anniversary back in 2019, and what a splendid way to pay homage to this rich legacy than creating a scaled-down version of the Type 35, imparting some automotive history to the youngsters. They say the passion for cars is in the genes, but you can infuse a bit of it even if it's not. The best part? Adults can get behind the wheel as well!
Should you fancy a spin in your child's Bugatti, be it on a track, a road, or any surface your imagination can conjure, just engage the 'adult' mode switch, providing a modest five horsepower and a top speed of 30 mph (though it's electronically capped).
But if the need for speed consumes you, or if you intend to make an impression at your child's tea party with a few tricks up your sleeve, Bugatti has you covered with a Speed Key that unlocks 13 horsepower, free from any speed restrictions.
Salient Features of Baby II
How amazing is this! This adorable Type 35 replica includes a luxurious leather seat, the iconic aluminum dashboard and steering wheel from the company, a removable lithium-ion battery pack, regenerative braking, and even a limited-slip differential. While the prototype showcased at the 2019 Geneva Motor Show didn't have headlights, Bugatti assured us that the production version would feature powerful headlights, and we hoped for the addition of Daytime Running Lights, too.
Similar to the Chiron, the Bugatti logo on the Baby II is crafted from solid silver. Production commenced in the final quarter of 2019, and Bugatti began accepting orders shortly after the unveiling. Despite the showcase of the French Racing Blue shade, a wide array of colors was available. Did I also mention the inclusion of eight-spoke aluminum alloy wheels? Bear in mind that this was a limited-production vehicle, with only 500 of these remarkable machines produced.
Additionally, every Bugatti Baby II unit was adorned with a special limited-edition numbered plaque, and for cars ordered in 2019, a badge was included to commemorate the automaker's 110th anniversary.
Second Cheapest Bugatti Veyron – Starting Price $1.9 Million
The Veyron is the second cheapest Bugatti model of the current century. Do not get me wrong, it is the most affordable in the brand's lineup, with a starting price of $1.9 million when we evaluate it against other luxurious models like Bugatti La Voiture Noire (priced at around US$19 million). However, some of the special edition Veyrons came with more than double the price. And they are still one of the fastest luxury cars of present times.
In 1999, the Veyron started as a concept at the Tokyo Motor Show. Volkswagen AG used it to demonstrate its prowess, stemming from its acquisition of Bugatti in 1998. Initial concepts like the EB 118, EB 218, and the famous 18/3 Chiron hinted at the Veyron's 545bhp W18 engine. It eventually evolved into the iconic 16/4 Veyron we know today.
How Veyron Came into Being?
Bugatti traces its roots back to 1909 when Jean and Ettore Bugatti founded it. The brand's early years were marked by success, with victories in prestigious events like the Monaco Grand Prix and Le Mans. However, financial difficulties in 1952 led to a temporary halt.
A series of attempts at revival followed, culminating in its acquisition by Romano Artioli in 1987. Production resumed in 1990, highlighted by the EB110 GT. Despite initial success, financial struggles resurfaced, leading to closure in 1995.
Bugatti's revival came in 1998 under Volkswagen Group ownership. In 2005, they introduced the W16-powered hypercar, producing 450 units until 2015, cementing their status in automotive history.
1. Powertrain
Despite early concepts of a three-bank W18 engine, the Bugatti Veyron sports an 8.0-liter quad-turbocharged W16 powerplant in its production model. This beastly engine configuration delivers just shy of 1000bhp and a whopping 922 lb-ft of torque. Back in 2005, it recorded a remarkable top speed of 253.81mph at Volkswagen Group's Ehra-Lessien test facility, thanks to a 'speed key' that lifted the standard 213mph limiter.
Bugatti utilized an impressive array of 10 radiators and various cooling components to keep the powertrain cool. Power is transferred to the ground via a lightning-fast seven-speed dual-clutch automatic transmission from Ricardo of England, shifting in a mere 150 milliseconds, faster than the track-only Ferrari FXX Evo of that era.
In 2010, the Super Sport variant upped the ante with larger turbochargers, enhanced inlet manifolds, a remapped ECU, and larger charge-coolers, resulting in a staggering 1183bhp. Engineers believed it could achieve even more power, but the gearbox couldn't handle it.
2. Suspension, Handling, and Braking
In order to handle the immense power of the Veyron, it's equipped with a robust braking system: 400mm front and 380mm rear carbon ceramic discs paired with eight-pot front and six-pot rear AP Racing calipers. Additionally, an air brake can adjust from 15 to 55 degrees in under 0.4 seconds. The double-wishbone suspension with a fast-acting hydraulic system adapts the ride height for stability and efficiency. Michelin-designed tires, 365mm rear, and 265mm front, mounted on polished OZ wheels, provide the necessary grip for speeds exceeding 250mph.
3. The Cabin
Despite its impressive performance, the Bugatti Veyron's interior offers a luxurious experience reminiscent of a Bentley. The cabin boasts exquisite leather upholstery, complemented by carbon fiber accents. It surprises with a comfortable door aperture and a rear-view mirror-mounted reversing camera. Bugatti's no-expenses-spared ethos is evident in details like indicator stalks crafted from costly aluminum/magnesium alloy and magnesium gear shift paddles. The single-piece aluminum center console with guilloché finishing pays homage to Bugatti's heritage.
Cheapest Bugatti Veyron's Special Editions
The Bugatti Veyron has seen numerous special editions catering to the desires of million-dollar buyers seeking exclusivity.
Notable among the best hypercars is the Bugatti Veyron EB 16.4, which first claimed the title of the world's speediest production car with its 987bhp 8.0-liter quad-turbo W16 engine. Despite each unit reportedly costing Bugatti over $6 million to create, they exchanged hands for around $1 million, resulting in significant losses.
Another standout is the Bugatti Veyron Pur Sang (2007), limited to just five units, featuring bronze wheels and a delicate body finish.
Bugatti collaborated with Hermes in 2008 to create the Veyron Fbg Par Hermes, adorned with distinctive Hermes branding details. These special editions add unique character to an already exceptional supercar legacy.
The Bugatti Veyron Sang Noir is a limited edition model with an all-dark exterior and striking orange interior. Only 15 were developed.
In 2008, the Bugatti Veyron Grand Sport, a Targa top variant, reached 253mph with the hard-top roof but 229mph with the roof down. Chassis no.001 accrued $900,000 for charity at auction.
The Bugatti Veyron 16.4 Super Sport boasts 1183bhp and 1106 lb-ft of torque, hitting 268mph and reclaiming the world speed record for production cars, including the 'World Record Edition' in carbon fiber with bright orange accents.
The Meo Constantini Veyron, part of the Legends Series, pays homage to Bartolomeo Constantini, Bugatti's motorsport head. It features his signature on headrests and fuel cap, with his racing history etched in leather and a Targa Florio route map.
The Bugatti Veyron Super Sport Sang Noir offered an all-black aesthetic to those unimpressed with the 'World Record Edition.' Despite the $3.4 million price tag, a vibrant orange interior awaited buyers.
The Grand Sport L'Or Blanc is a unique supercar with a delicate touch – crafted partially from porcelain, including fuel and oil caps. However, its ostentatious color scheme and porcelain caviar tray may divide opinions. The standout feature is the paintwork, giving it a wet porcelain appearance under lights despite being a meticulously perfected solid livery.
At the 2011 Dubai Motor Show, the Bugatti Veyron Grand Sport Middle East Editions debuted. One featured vivid yellow with dark carbon inserts, another had a two-tone frame with blue carbon and refined aluminum, and the last sported a stylish green carbon texture framed in shiny aluminum. Prices started at $1.7 million (around £1.4 million).
Bugatti bid farewell with the Grand Sport Vitesse La Finale, reminiscent of the first Veyron. Crimson carbon-fiber exterior, maroon wheels, and a scarlet interior featuring bronze elephant logos mark a classy farewell to an iconic car.
Read More:
Cheapest Bugatti Cars – FAQs
Why are Bugatti cars not cheap?
Bugatti cars command a hefty price due to their advanced tech and premium materials. Labor expenses are substantial as well. For instance, the W16 engine, with four $6,400 turbochargers and $18,000 air coolers, requires $11,000 in labor for installation.
What is the cheapest Bugatti in the world right now?
The Baby II fetches the Bugatti's lowest price at $34,000. Though designed for kids, it features an adult-friendly drive mode. It's a 3/4 scale Type 35 with a 1.3 hp electric motor, topping out at 12 mph in child mode.
What is the price of a new Bugatti?
Owning a Bugatti demands a financial commitment that exceeds the average person's decade's earnings. The base Chiron started near $3,000,000, with the Pur Sport variant surpassing $3.5 million. The Super Sport and Super Sport 300+ commanded approximately $4 million, while the iconic W16 Mistral begins at a hefty $5 million. It is the coolest Bugatti in the world, with deliveries set for 2024.
How Many Bugattis are in the world?
Determining the pre-1998 global Bugatti count is challenging, but it's clear that Volkswagen's acquisition resulted in more than 1,000 speedsters sold globally. Complete details on the number of Bugatti cars are available here.
news via inbox
Sign up and never miss out on the latest news and updates at HighStuff