rel="nofollow"Decking works perfectly to beautify any outdoor space. It is an affordable way to remodel the aesthetics of a messy space. It can  make your garden more stunning and useable. Decking requires careful consideration. You must be aware what type of decking would look good in your area and serve the purpose. In this regard, the decking material is of paramount importance. The following decking tips would be best for both the customers and the tradesmen.
Choosing the Decking Material
Given below are two most popular materials for decking an outdoor space.
1- Wood:
Green-tinted wood and timber are popular classic decking choices. Wood gives a natural look, well suited to a garden blending well with the nature. It is popular with tradesmen in the UK for its affordability. The cheap price entices more customers, thus helping traders earn more profits.
With that being said, wood requires some maintenance from time to time. You need to fix and reseal the decking if it wraps. Moreover, you will have to polish it to maintain its appearance. Discoloration is natural , which largely depends on the position of your deck. For example, the areas directly exposed to the sun rays get discoloured quicker than the other sections.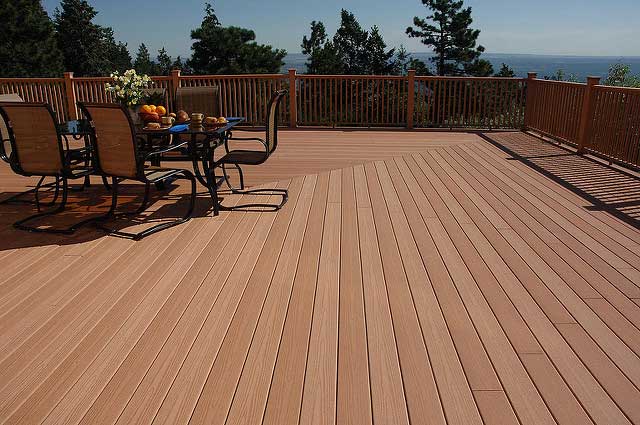 2- Composite Decking:
Composite or manmade decking is fast becoming popular for a number of reasons. It is made employing  a combination of plastic materials, which mainly depend on the product you pick. For instance, Trex employs 95% recycled material including sawdust, reclaimed wood and plastic to create composite decking.
Unlike wood, composite decking does not require a lot of maintenance, since it does not fade, split or stain thanks to the synthetic formation. The good news is that it looks similar to wood grain and is available in a wide variety of designs. Bear in mind that a few composite decking brands cannot be repainted, limiting your choices. Therefore, if you are not sure about the decking material and you look for different colour options, then it is better to consider wood decking over composite.
Composite material does have its drawbacks. It is prone to mould and mildew, especially in the dark and wet deck areas. Since there is a hint of wood element in composite decking, mold signs are evident in some composites.
3- Which Material Should You Choose?
Statistics reveal that wooden material is a popular choice of UK consumers as 80% of decks here are wooden. Nevertheless, the interest of customers in plastic decking is continuously increasing. The unpredictable weather of UK makes composite decking a great choice to survive the unsteady seasons while looking good at the same time. Here is a Google Trends graph showing the composite decking trends.
4- Conclusion:
So, what is an ideal choice – composite decking or wood decking? We recommend composite for longevity and less maintenance provided that you can afford it. On the other hand, wood decking is cheaper of the two and blends well with the environment. But as mentioned above, you will need to take care of its maintenance cost. In short, both the materials are good, the choice should depend on the money you are willing to spend.
Featured Image by Flickr