Modern Curtain Ideas
Curtains can greatly enhance the appearance of any part of the house. Here are 10 modern curtain ideas that you can try out in different rooms of your house.
1. The Inverted Pleat
If you are looking for a sophisticated look for your curtains, you should try the inverted pleat. The inverted pleat is well suited for heavy fabrics and looks great in large rooms.
If you have a small room, then an inverted pleat style will add more volume to it and make it look smaller. This is one of the best modern curtain ideas for offices and formal settings. In a family living area or bedroom, the inverted style can look out of place.
2. Grommet Top Curtains
Grommet top curtains are truly modern curtain ideas and have been around for a while. What makes this style so appealing is its simplicity and lack of pretentiousness. They give a neat look without drawing a lot of attention of taking up much space.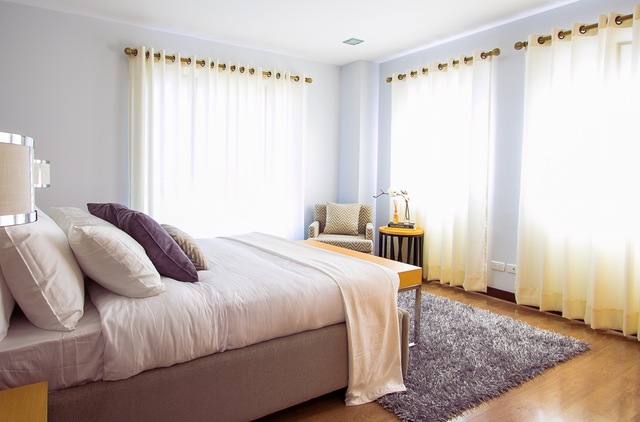 Instead of the busy appearance of traditional ornate curtain styles, grommet top curtains are well-suited for all seasons. This style also complements a variety of fabrics including sheer, textured and printed fabrics, and even plain curtain fabric.
3. Tab Top Curtains
Like grommet top curtains, tab top curtains are also extremely simple and neat. As with other modern curtain ideas, this style can be used in any room of the house while looking elegant. Instead of using grommets or eyelets, the rod passes through loops made of the same fabric as the curtain.
Tab top curtains are perfect for the bedroom and kitchen because of their basic design and easy maintenance. They can be removed easily and replaced on the rod after cleaning.
4. Panel Curtains
Panel curtains depart significantly from traditional curtain styles. Unlike curtains that draw to the side, panel curtains are drawn by raising and lowering them horizontally. A panel curtain has a top and a bottom rail to make the curtain hang at level.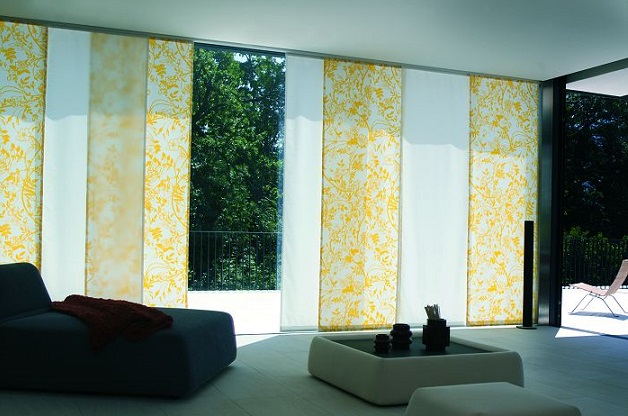 This style does not create any folds and can be used in the living area because of its unobtrusive style. Panel curtains are one of those modern curtain ideas that create a casual and informal environment and can be used with very small windows as well as large ones.
5. Roman Blinds
Roman blinds are not exactly modern in their origin, but they have become popular in recent times. One of the most popular modern curtain ideas, Roman blinds are similar to panel curtains in that they are drawn horizontally instead of vertically.
However, when Roman blinds are raised, the fabric stacks up giving a layered appearance. Roman blinds are popular because they take up less space than traditional curtains but give a textured appearance due to the stacking effect.
6. Bamboo Curtains
Bamboo curtains are made by thin strips of bamboo or other similar material. They are raised and lowered horizontally like panel curtains and Roman blinds. However, the best thing about them is that they allow some light to filter through the gaps between the strips.
These curtains offer excellent modern curtain ideas by being completely natural and also inexpensive.
7. Contrasts
Popular modern curtain ideas include the use of contrasting colours and materials. Going against the grain, this style is made by layering fabrics of two different materials or colours over one another.
The contrasting style is appropriate for places where the climate varies widely during the day and night, allowing one or both layers to be drawn. This style can be combined with panels to overcome the problem of blocking all the sunlight.
8. Combinations
Some modern curtain ideas can be created by combining two different styles. A very popular style involves combining horizontal and vertical curtain styles. This can be done by hanging curtains in grommet or tab style over horizontal blinds.
This gives a nice, layered look without being overly dramatic. This style would work well in a personal space such as a bedroom since it creates a sense of privacy while allowing for experimentation and some creative expression.
9. Prints
Printed curtains have made a comeback, mainly because they offer an excellent way to personalize a room and make in look distinct. They are the easiest modern curtain ideas because you can source prints from anywhere.
In addition, you can combine prints in different combinations to get a boho look for the room. Floral prints, stripes and oriental designs are relatively more popular than geometrical patterns. Using large prints on curtains can help to accentuate the overall appearance of the room.
10. Pencil Pleats
Pencil pleats are not exactly modern curtain ideas as they have been around for decades and are the most basic style of curtaining. However, this style is popular today because of its neat and unassuming appearance.
Pencil pleats can be arranged in any manner of thickness, although the slimmer pleats are more aesthetically appealing. Some people might find the style too severe for their taste. However, if your curtains have thermal lining, then pencil pleats might not give the best appearance.