Top 12 Stylish Bedroom Wall Decor Ideas You Need Today
If you were doom-scrolling Pinterest or TikTok to get inspiration for minimalist bedroom wall decor ideas but ended up getting overwhelmed by the never-ending home decor options, this guide will help make things more simplified and actionable.
Minimalistic bedroom wall decor is all about creating a decor or design that's not visually burdening or crowded. Although bold colors can be used here and there, minimalistic designs are often of light hues and simple patterns. It focuses on decorating your walls with less stuff that is creatively designed in a way that looks aesthetically pleasing and beautiful.
12 Unique Bedroom Wall Decor Design Ideas To Enhance Your Home Decorations
1. Install a Mural
It's only a matter of creativity in how you want to express your persona through painting a mural on bedroom walls. These are bold and beautiful designs you paint or install on walls to make them a center point. Murals can be abstract paintings, DIY decor with paper, stylish curtains, textures (marble one is my fav!), or any other style you like. Just design something that pops up and attracts the onlookers as they enter your bedroom.
2. Add a Mirror | Classic Yet Trendy Bedroom Wall Decor Style
"Mirror mirror on the wall" is not going anywhere any time soon. Try decorating walls with mirrors in the bedroom. You can blend your own artistic creativity with the old-fashioned minimalistic round mirror or install blob mirrors to add a dramatic vibe. Plus, it will light up your room and add a feel of spaciousness.
If you are a vintage lover, you can add mirrors with gold frames. Or thin, small mirrors are perfect for small bedroom wall decor ideas.
3. Integrate TV Seamlessly
This is for people living in small spaces and are lovers of a minimalistic lifestyle. Install a TV set in a way that seamlessly blends with the bedroom wall decor. Add floating bedroom shelving, small vases, or pots to add a natural vibe and balance the "gadget-y" look.
4. Bring in Some Nature
Bring in some life (like, literally) and add a splash of some greens here and there. Combine the decor with natural-colored or rustic-style rugs, chairs, or linens to match the vibe. You can place some indoor pots or flower vases on the shelves, enhancing the look of the bedroom.
Pro Tip: If you are placing small indoor plants as a decor theme, try going with sage-colored walls, as they look fabulous with them. It is a great wall paint idea for bedrooms.
5. Frames Can Never Be Not-Trendy
Even if you have zero knowledge about home decor, you would know the go-to thing used to decorate any wall – adding frames!
But how can it be so unique that it depicts your true self? Well, there are several ways to do that.
Go with unsymmetrical frames
Add unusual artwork
Install the old 3 frames but in different positions
Add frames with quotations
Add frames of several sized combine with small mirrors
Try combining them with floating shelves
6. Customized Polaroid Cards – Best DIY Bedroom Wall Decor Idea
Minimalistic bedroom wall decor must be budget-friendly. Because if they are not, it will kill the purpose. Don't have a budget to hire a professional designer to decorate your walls. Adding some family portraits, cute Polaroid cards with jute threads, and some clips is a heart-warming and cheap wall decor idea for your bedrooms and even small living rooms, for that matter. 
Pro Tip: Add fairy lights and posters of your favorite celebrities to add your personalized touch to your room.
7. Make Use of Negative Space | An Aesthetic Wall Decor Idea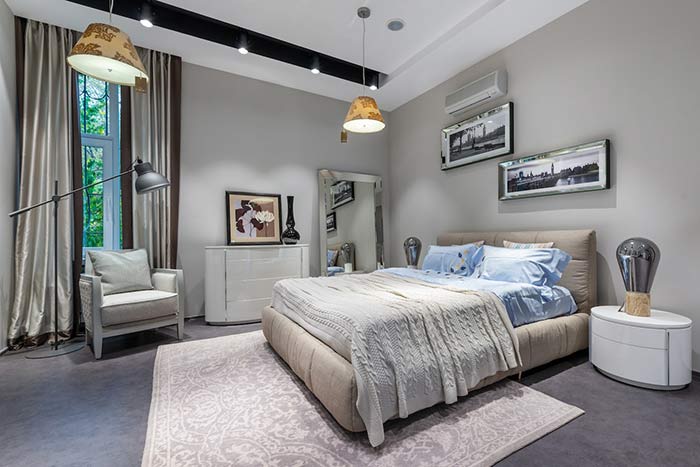 In interior design, negative space refers to the empty space that is left when you place furniture, art, or any other object. It holds equal importance in designing relaxing bedroom decor. It is not only about placing things. Sometimes, taking out things and creating a visual breathing space can do wonders. The most important factors that play a part in making use of negative spaces are how much is the size of the room, how high the ceiling is, and what's the flow of light in the room.
Sometimes, avoiding overstuffing the room with items like coffee tables, shelves, couches, and fancy lights means playing with negative space in home decor – which is closely synonymous with minimalistic home decor.
8. Try Something Bright and Bold
Minimalistic bedroom wall ideas do not mean you can't play with bold and bright colors. You can paint an accent wall with strong colors, add a colorful rug or art piece, or hang fancy curtains that compliment the room's overall vibe. It will enhance the vibrancy and, combined with symmetrical wall art like mirrors or frames, will surely give new meaning to minimalist bedroom decor.
9. Textiles and Tapestry Can Never go Wrong
Wall tapestry adds up the coziness of the room and makes it more like a home rather than just another apartment. It shows that you have put in some thought and effort to decorate your living space. Moreover, it adds volume to the room without actually feeling like you have added something significant.
Try the different color combinations like half-wall ideas and furniture to give it a minimalistic touch. If you are hanging a tapestry that has bold textures, try minimizing the other colors in the room so it can become the focal point. You can install it on the wall behind des headboard, but to be unique, try hanging it on the other walls as well. Check if it suits the vibe of the room.
10. Monochromatic Can Be Luxurious
Black and white can be luxurious if you combine them both with intricacy and creativity. The magic of bold and light hues makes the room feels majestic. Combine the decor with luxurious lighting and thin window treatments to complete the look. You can also add shades of grey too. This edgy and trendy theme will add drama yet subtle elegance to your living space.
Pro Tip: Pick charcoal-colored sheets and covers to make the bedding cohesive with the room decor. Or you can add ceiling hanging lights (industrial style) to make the room stunning and intimidating.
11. Add Something Neon
It is the most trendy and unique bedroom wall decor style that instantly grabs attention and gives your room a unique vibe. Being the most "Instagrammable," neon-colored home decor is widely popular among Gen-Z who want to flex their room decor online. You can get these signs customized with your name, favorite lyrics, quote, action figure, or anything you like. There are several communities on Reddit where neon fanatics gather and get their ideas across.
Fun fact: Neon LED lights are not new in the decor game. But in recent years, it has gained popularity among youngsters to the next level.
12. Subtle Accent Wall
Although you are designing everything minimalistic, why not experiment with something that just feels maximalist – but it is not actually? Creating a wall that pops up while maintaining the minimalist aura is something that will make your room looks standout. When you make the accent wall in prominent shades/design, combine it with symmetrical and minimalistic furniture and a little decor to maintain the balance and let the accent wall take center stage.
Conclusion
Deciding the best-suited bedroom wall decor requires effort and thought. You have to invest time in deducing what is the most budget-friendly yet stylish way to redefine your home decor.
That's why minimalistic home decor is getting widely popular. It just needs some creativity and out-of-the-box thinking to decide whether you want to go for installing mirrors, plants, or tapestry or go for aesthetic murals or monochromatic decor to add a dash of style.
news via inbox
Sign up and never miss out on the latest news and updates at HighStuff