Top 10 Luxury Hotels Fort Lauderdale, Florida: Where Luxury Meets Sophistication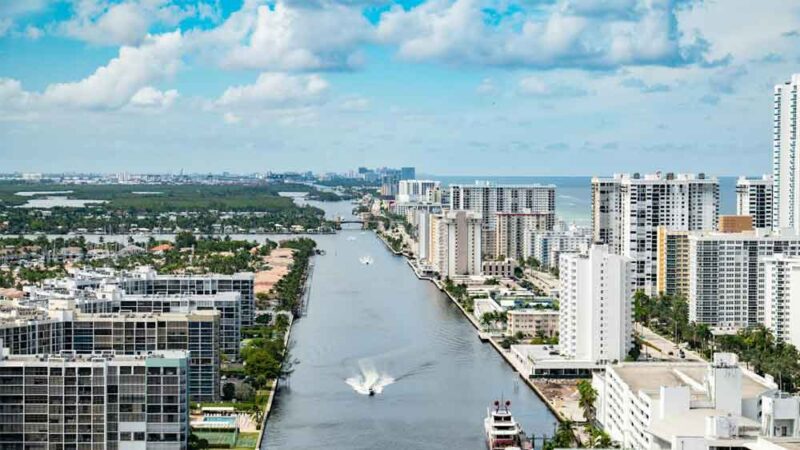 There are a million reasons why one wants to visit Florida, USA. The top of them are visiting amusement parks, beaches, and luxury hotels Fort Lauderdale. Plus, many people just want to explore what different cities in Florida have to offer.
For example, they scroll through the fun things to do in Tampa, the expensive restaurants of Florida, and many other listings like that. So, if you are the one looking for new options to have super luxurious fun this weekend, give it a read.
10 Best Luxury Hotels Fort Lauderdale You Should Book Now
Explore what amenities and views Fort Lauderdale has to offer in its top 10 luxury hotels.
1. Four Seasons Hotel and Residences
The legacy and class of Four Seasons Hotels needs no introduction. In the yachting capital of the world, they opened a new project last year in 2022. The pristine water backdrop and every luxury that you can imagine is included in this prestigious hotel. This is the unique combination of modern style with a classic vibe that no one can match.
According to the research, the more you stay close to water or any natural environment, it enhances your mental health and wellbeing. Four Seasons Hotels really helps their guests to feel a little more alive by incorporating natural elements and soft hues into their property.
Cuisine Specialties:
It also offers one of the best varieties of Eastern Mediterranean and American tastes. Chef Brandon Salomon has set an irresistible menu that no other can offer.
Guests Reviews:
Many visitors consider it one of the finest luxury hotels in Florida. The interiors are grand and spotless. Many consider the facilities and offering much more than they pay for. All of the facilities get notched up when you indulge with super courteous and knowledgeable staff.
Whats Closeby?
Restaurents: Lona Cocina Tequileria, Takato, La Fuga
Attractions: Village Design Art Gallery, Village Shoppe
2. Conrad Fort Lauderdale Beach
It offers a panoramic view of soft sand beaches that are unmatched. Equipped with an indoor gym, spa, private balconies, and rooms with pool, city, or ocean views, it is the leading hotel in Fort Lauderdale by the sea.
Luxury suites are fully furnished with modern aesthetics and marbled floors. In simple words, it is the most authentic 5-star hotel that you will ever visit in Florida.
Cuisine Specialties:
Being the Readers Choice Award Winner of 2019, it offers a wide variety of cuisines and menus. From handcrafted cocktails to exquisite seafood, you can have the best quality artisanal cuisines like nowhere else.
Guests Reviews:
Guests find the rooms much more spacious than expected. Plus, the quiet and peaceful environment is best for relaxing and getting all comfy away from the bustling cities. Many consider it one of the best Fort Lauderdale beach resorts for dates and honeymoons.
Whats Closeby?
Restaurants: Tinta- Westin Fort Lauderdale Beach, Wild Thyme (Oceanside Eatery
Attraction: Bonnet House Museum and Gardens, Brynja Beach Shop
3. Plunge Beach Resort
It's more of a hidden gem for many people. With warm cafes and fully equipped rooms, it offers a serene getaway from bustling cities. The airy atmosphere literally fulfills the idea of chilling in the beachfront hotels in Fort Lauderdale. Young and trendy decor combined with exceptional facilities and highly-affordable rates it is the best option. You can consider it if you are looking for a resort that is cool, affordable, and comfortable.
Cuisine Specialties:
To complement the seaside experience, they have chilled drinks, cocktails, beers, delicious tacos, sandwiches, and freshly brewed coffee.
Guests Reviews:
The traveler really admires the cleanliness practices and well-mannered and well-informed staff. Many consider it the best beach getaway to spend a long weekend. It has a family-friendly vibe that many guests are attracted to. The Bar staff, cool decor, and fitness center are the real highlight.
What's Closeby?
Restaurants: Jan's Homemade Candies, Kilwins's, 101 Ocean
Attractions: Beach Pavilion, El Prado Park, Coast Boutique
4. The Atlantic Hotel and Spa
The Atlantic Hotel and Spa is one of the most prominent luxury hotels in Fort Lauderdale near the beach, where you can experience a slice of paradise. Since it is focused on a full-service spa, it offers a premium level of saunas and steam rooms. You can book it as your relaxing travel destination for a long weekend to unwind.
Not only that, but its one-of-a-kind steakhouse, bar lounges, and pool decks are also the main attractions for the guests.
Cuisine Specialties:
From unique salads and appetizers to cocktails and sandwiches, you can enjoy anything while facing the shores of the sea. The sky bar (the bar on the 5th floor) gives a 360-degree view of the beach, so you can have refreshments in the most chill and breezy setting.
Guests Reviews:
Focused on providing wellness and calmness, the environment is extremely soothing. Being a Fort Lauderdale beachfront hotel, it has everything you need. Many guests considered the seating arrangement, facilities, and cuisines to be the best highlights of the resort.
Whats Closeby?
Restaurants: IL Mulino Cucina Italiana, Wine + Garden, Archibald's Village Bakery
Attractions: Bonnet House Museum and Gardens, Village Shoppe, Village Design Art Gallery
5. Marriott Harbor Beach Resort
Marriot Harbor Beach Resort in Fort Lauderdale is the best option if you want to enjoy an oceanic view while having a chilled latte. The tropical and airy atmosphere, poolside activities, and incredible food are all significant facilities that it provides.
There is something more fascinating: According to TripAdvisor, it has the GreenLeaders Bronze level, which means that it has incorporated green practices for a sustainable future. More specifically, the temperature is set to save energy, minimized flooring design landscape, and recycled packaging is used.
Cuisine Specialties:
The unique style of bare-foot dining makes it matchless among its competitors. You can get everything from local seafood to chilled cocktails at Sea Level Restaurant and Ocean Bar.
Guests Reviews:
The availability of Starbucks, cute smoothies, and gift shops is a real deal for many visitors. With a nice private beach and pools, people find it very comfortable. Liev music, fitness classes, valet parking, and access to the cruise are the main highlights for many guests.
Whats Closeby?
Restaurant: G&B Oyster Bar, Pelican Landing, 3030 Ocean Restaurant & Bar
Attractions: Stranahan House, Museum of Discovery and Science and IMAX 3D Theater, Secret Woods Nature Center
6. The Ritz-Carlton
Classic, stylish, and elegant." These 3 words can perfectly describe what it has to offer. With a poolside cafe and fully polished, spotless rooms, it can be the best place to stay in Fort Lauderdale.
Besides being located on a beachside, it has a calm and relaxing vibe that attracts busy professionals who want to unwind after a tiring day. The minimalist, cool, and laid-back style of room and living lounges. Moreover, this luxury hotel is fully equipped with perfect spas, business centers, workout rooms, air conditioning systems, and whatnot!
Cuisine Specialties:
Enjoy being in the oceanfront hotels in Fort Lauderdale with Nutella pancakes, tempura grouper, and classic French toast. Buy bottled rums and sandwiches to get a truly immersive experience.
Guests Reviews:
The spacious rooms offer scenic views. The proximity to the airport and the best restaurants make it preferable for many guests. What impressed them the most was the hospitality of the staff and housekeeping services.
Whats Closeby?
Restaurants: Señor Frog's Fort Lauderdale, Nanou Las Olas French Bakery, Lona Cocina Tequileria
Attractions: Escapology Fort Lauderdale, Le Macaron French Pastries, Beach Cigar and Hookah Lounge
7. The Lago Mar Beach Resort and Club
Experience the real, soothing environment of the beach in the top family hotel, The Lago Mar Beach Resort and Club. It is the perfect blend of stylish and sophisticated decor that elevates the entire vibe.
The spa boutique, tennis courts, property-wide wifi, outdoor pools, volleyball courts, and gym are of at-par quality. The accommodation facilities are unmatched, encompassing every amenity you can ever imagine.
Cuisine Specialties:
They have a wide range of American cuisines and snacks that you can enjoy anytime. Choose from the 4 eateries and make the most of your spending. Plus, they have some exciting kids' menu as well.
Guests Reviews:
With incredible views, beaches, breakfast options, and poolside activities, it has surpassed the expectations of many guests. Many of them are really impressed by the humble and professional attitude of the staff.
Whats Closeby?
Restaurants: Lona Cocina Tequileria, La Fuga, Dolce Salato Pizza & Gelato
Attractions: Lagerhead Cycleboats, Escapology Fort Lauderdale, Dania Pointe
8. The Pillars Hotel & Club
Unlike many of the best hotels in Fort Lauderdale, it also offers a garden view and a fully furnished library. That's like a dream resort or hotel for book lovers. Equipped with the latest facilities like town car services, outdoor pools, free comforters, and luxurious spas, it has all the stuff you need.
The artifacts, room decor, furniture, and comfortable chairs by the poolside are something that busy guests really like. They can wander outside or sit by the fireplace to have a work-free and stress-free weekend.
Cuisine Specialties:
Visit the on-site Secret Garden restaurant to enjoy the best food. Get various dishes of seafood and drinks of your choice.
Guests Reviews:
Beach, bars, and restaurants are at the close access, which is convenient for many guests. Some visitors find it totally picturesque. The friendly and professional staff is the center of attention for many people.
Whats Closeby?
Restaurants: Lona Cocina Tequileria, Casablanca Cafe, Señor Frog's Fort Lauderdale
Attractions: Hunter's Beach Bar, Via Luna Bar, Escapology Fort Lauderdale
9. Sonesta Fort Lauderdale Beach
With flawlessly clean rooms that are fully furnished and equipped with every facility, it offers sweeping panoramic views of the seashore. Get Caribbean-American cuisines right at your service from the most courteous staff.
It also has a fully equipped business center, private parking, and an outdoor swimming pool that really complements the vibe. So, whether you want to get a peaceful space to work on your best business to start in Florida or just want to have an intimate date with your loved one, the Sonesta can be the most favorable option out there.
Cuisine Specialties:
The pool bar is specifically designed for people who love to have a drink while they chill. Breakfast, dinner, and lunches are served according to the Caribbean-American menu.
Guests Reviews:
The warm, welcoming smile of courteous staff is the most memorable thing for many people. Nice and comfortable rooms with tiled bathrooms and fresh towels feel great. The beach is in such close access that you can easily reach it even late eve or night.
Whats Closeby?
Restaurants: Primanti Brothers Restaurant, Yo Mama's Ice Cream & Pops Corn, Kousine Fort Lauderdale
Attractions: Hugh Taylor Birch State Park, Fort Lauderdale Garden Club, The Parrot (Bar and Club)
10. B Ocean Resort
From the color schemes of bedrooms to the bar lounges and private beaches, it is one of the best resorts in Ford Lauderdale. With bike rentals, unmatched room services, and amenities, it is the favorite option for many visitors.
Cuisine Specialties:
Order anything from the cocktail bar, from steak and seafood to drinks.
Guests Reviews:
Most of the guests experience one of the coolest and nicest environments. The well-maintained room and lounge areas seem impressive. Plus, they take care of sustainability and green practices, which is a great preferable point for people who consider it valuable.
Whats Closeby?
Restaurants: Jungle Queen Riverboat, Riva, 3030 Ocean Restaurant & Bar
Attractions: Fort Lauderdale Beach Park, The Wreck Bar
Final Words
There are different preferences of everyone when it comes to luxury hotels in Fort Lauderdale. Some love to stay in beachfront rooms, while others prefer to have a cocktail beside the pool. So, the best approach is to access your preferences and spending power to decide what option you really want to go for.
news via inbox
Sign up and never miss out on the latest news and updates at HighStuff