Wrap Up Of The 2018 Wedding Dress Trends
As each new year approaches, the wedding industry gears up to identify the hottest and most exciting trends for wedding dress designs. Designers, fashion reporters and brides-to-be, all want to know how to make the most beautiful bride. We've scoured catwalks and designer collections around the world and have identified 10 of the hottest wedding dress trends for 2018.
Wedding Dress Trends
While some of these are a continuation or elaboration of trends that we have already seen in previous years, many are actually novel and have not been experimented with in recent times. Soft colours instead of nude shades, lace, transparency, florals, bell sleeves, capes and feathers are some of the exciting trends to watch out.
1.  Soft Colours
Image Source: Pixabay
Compared to the nude shades that were popular in 2017, we can expect to see a return to more softer and natural colours, such as lilac and peach. People have grown weary of seeing the same nude shades and want new wedding dress trends. These shades add a touch of brightness without being over the top, which is what most brides and designers are aiming for. Moreover, they are also easily complimented by satin, lace and embroidery of various types.
2.  Bold Splashes
Image Source: Pexels
Let's not forget the men, our better halves. For groom dresses, we look forward to seeing some vibrant colours in their dresses, such as royal blue, purple and burgundy. They might seem over the top, but can really enhance the appearance of a well-tailored suit. We know what you're thinking—how on earth are you going to compete with all that colour? Don't worry. There's enough juice in the following sections to keep you the centre of attention on your special day.
3.  Layered Transparency
Image Source: Maxpixel
Possibly one of the biggest and most defining wedding dress trends of 2018 is going to be the layered transparency look. We can expect to see more wedding gowns made with layer upon layer of transparent material. Tulle, batiste, organza and chiffon are the best transparent materials. They are also lighter than non-transparent materials which allows designers to play around with the design easily. These materials help designers to shape the overall wedding dress according to the body shape of the bride.
4.  Lace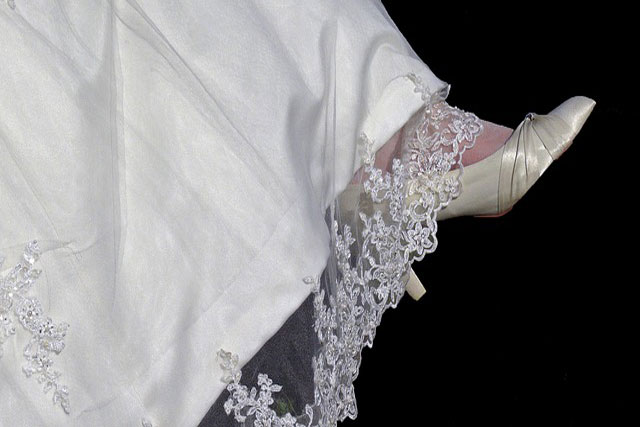 Image Source: Pixabay
Often described as the most classic wedding dress trends, lace will be coming back in a big way in 2018. Delicate lace seems to have become the buzzword within the designer community already, with most of them exploring ways to incorporate detailed lace designs on sleeves, caps, and corsets. You can consult with your designer about adding lacework to the neckline, the bodice, or in the insert. We've also seen entire gowns embellished with decorative laces in cool colours like ice blue.
5.  Deeper Necklines
Image Source: Pexels
While most brides prefer the classic when it comes to wedding dresses, many designers as well as brides like to push the envelope. Bridal design in 2018 is going to see just that with deeper, plunging necklines to create a statement. As seen in many other trends described here, you can use lace and transparent layers to play around with the neckline to a level where you are comfortable. Lace and other transparent insert can help to soften overly deep necklines.
6.  Florals
Image Source: Pexels
Wedding dresses are a celebration of feminity, and few trends symbolize it like florals. In 2018, we expect to see more use of applique and 3D design that incorporates floral patterns. Lace and tulle are perfect materials to make the most of this trend. Of course, the trend to watch out for is floral appliques that will add a whole new dimension to your wedding dress.
7.  Skin Show
Image Source: Pexels
The 2018 wedding dress trends are going to be all about confidence and being proud of one's body. Several designers have opined that one of the biggest trends is going to be skin exposure, a fantastic opportunities for brides to show off their beautiful body. More gowns are going to feature open backs. Of course, the classic slit leg is going to be the mainstay of this trend. All of this also has an element of comfort, making it easier for brides to move around.
8.  Bell Sleeves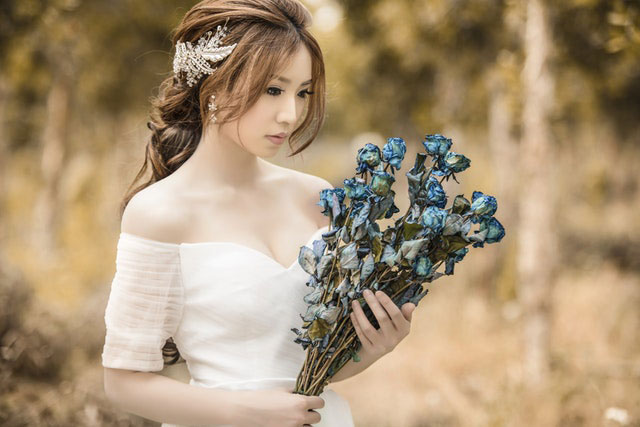 Image Source: Pexels
Bell sleeves were all the rage in the 60s, and are slated to make a comeback in 2018 in the unlikeliest of places—wedding dresses. Delicate lace is being touted as the most suitable material for designing bell sleeves, which is a good idea by the way because the weight of the lace with help to give a more definitive shape to the sleeves, preventing them from flying all over the place. These sleeves will also complement bohemian and layered wedding dress trends.
9.  Capes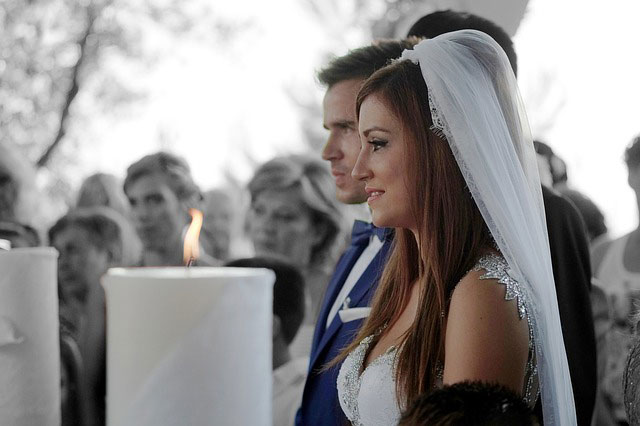 Image Source: Pixabay
This is our favourite feature out of all the 2018 wedding dress trends. While bows have been around for many years, the increasing popularity of capes suggests a desire for new and more elegant design elements. You can go for capes of all lengths and materials, preferably a material that complements the material of your wedding dress. We have seen designers presenting dresses featuring full-length capes as well as smaller capes. The capes can be attached at the shoulders and allowed to fall behind the back or over the front as well.
10.  Feathers
Image Source: Pixabay
Sounds like designers might be carrying things a bit too far, but yes, feathers are going to be a huge trend in 2018. Many designers have already showcased their collections on catwalks around the world. We'll see feathers used to highlight different parts of the wedding dress as well as dramatically incorporated on the entire dress.
Conclusion
2018 promises to be an exciting year for getting married. Designers have showed off a clear ambition to really push the envelopes and experiment with new trends while bucking off the conventional path. It's a great opportunity to share your wedding dress fantasies with your designer since anything that celebrates your individual spirit is up for the game. Go ahead and take your pick out of these 10 amazing wedding dress trends.
Featured Image Source: Pexels
news via inbox
Nulla turp dis cursus. Integer liberos  euismod pretium faucibua