12 Best Places to Visit in Sydney Australia with Kids
Sydney, Australia, entices as an exciting, family-friendly destination with a multitude of attractions for all ages. From iconic landmarks to stunning beaches, interactive museums, and wildlife encounters, the city offers a plethora of fun-filled things to do in Sydney with kids. This article unveils the best family places in Sydney, promising an unforgettable and enjoyable experience for both young ones and adults alike.
Unforgettable Family Adventures – Exploring Sydney, Australia with Kids
1. Sydney Opera House and Circular Quay
No Sydney adventure is complete without a visit to the iconic Sydney Opera House. Enjoy a guided tour of this architectural masterpiece or have a leisurely picnic at Circular Quay, where the Harbour Bridge provides a stunning backdrop to fun-filled activities, including street performers and artists, captivating both kids and grown-ups.
2. SEA LIFE Sydney Aquarium
Nestled at Darling Harbour, the SEA LIFE Sydney Aquarium is an underwater wonderland where you and your kids can get up close and personal with a fascinating array of marine life. From playful penguins to awe-inspiring sharks, the diverse exhibits promise an immersive and educational experience.
3. Taronga Zoo
Embark on a ferry journey from Circular Quay to Taronga Zoo, enjoying stunning views of Sydney Harbour en route. This famous zoo houses over 4,000 animals from around the world. Get up close to kangaroos, koalas, and other iconic Australian wildlife, all while gaining valuable insights into wildlife conservation efforts.
4. Bondi Beach
Embrace the quintessential Sydney experience at Bondi Beach, renowned for its sun-kissed shores, golden sands, and world-class surf. Let the little ones frolic in the clear waters, build sandcastles, or take a dip in the Bondi Icebergs' wading pool while the vibrant beach atmosphere keeps everyone entertained.
5. Manly Beach and Manly Sea Life Sanctuary
A ferry ride across Sydney Harbour takes you to Manly Beach, a family-friendly haven with a relaxed ambiance. Don't miss the chance to visit the Manly Sea Life Sanctuary, where your kids can gain valuable insights into marine life and participate in sea turtle rehabilitation programs.
6. Coogee Beach and Wylie's Baths
For a tranquil beach escape, head to Coogee Beach. Nearby, Wylie's Baths, a historic tidal pool, offers a safe swimming spot for kids, and the scenic ocean views set the perfect scene for a family picnic.
7. The Royal Botanic Garden
Find respite in the heart of the city at The Royal Botanic Garden. This lush oasis near the Sydney Opera House features themed gardens, open spaces, and shaded areas, providing a perfect spot for family picnics while your kids explore the native Australian flora.
8. Wild Life Sydney Zoo and Madame Tussauds
Situated at Darling Harbour, Wild Life Sydney Zoo and Madame Tussauds offers an exciting blend of animal encounters and celebrity experiences. Witness Australia's unique wildlife at the zoo and have fun with lifelike wax figures of global stars at Madame Tussauds, offering entertainment for the whole family.
9. Featherdale Wildlife Park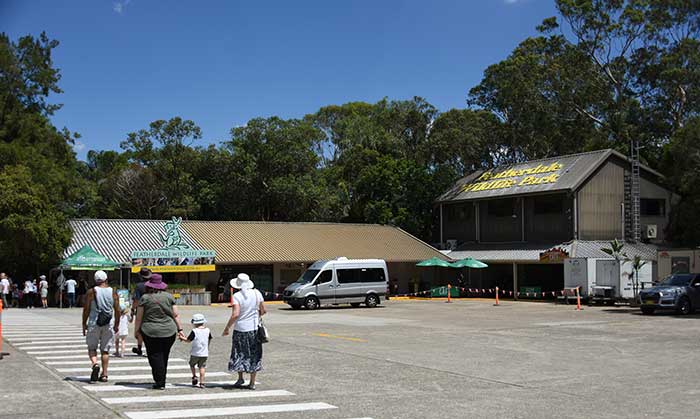 For a more intimate wildlife encounter, visit Featherdale Wildlife Park on the outskirts of Sydney. Kids will delight in hand-feeding kangaroos, cuddling koalas, and interacting with various Australian wildlife species, fostering a love for animals and conservation.
10. Powerhouse Museum
Kindle your child's curiosity at the Powerhouse Museum in Ultimo, an interactive wonderland that explores science, technology, design, and history. With ever-changing exhibitions, the museum offers a diverse and engaging learning experience for kids and adults alike.
11. Australian Museum
Discover Australia's natural and cultural heritage at the Australian Museum in central Sydney. From dinosaur fossils to aboriginal artifacts, the museum's captivating exhibits, including a dedicated children's gallery with interactive displays and activities, make for an educational and entertaining family visit.
12. Art Gallery of New South Wales
Encourage your child's creativity at the Art Gallery of New South Wales, offering family-friendly programs with guided tours and hands-on art activities. Your kids will have the opportunity to explore their artistic talents in a supportive and engaging environment.
Conclusion:
Sydney, Australia, is an enchanting and family-friendly destination with a myriad of attractions to delight visitors of all ages. Whether you're exploring iconic landmarks, enjoying the sun and surf at beautiful beaches, engaging with wildlife and nature, or immersing yourself in learning and creativity at interactive museums, Sydney guarantees an unforgettable and joyful experience for families. Make the most of your trip by planning wisely and cherish the memories you'll create during your time in this vibrant city.
Read Also: Best Places To Visit In Western Australia
news via inbox
Sign up and never miss out on the latest news and updates at HighStuff