13 Best Cheapest Travel Destinations in the World 2023
In our fast-paced world, wanderlust knows no limits, but traveling can be costly. However, let budget constraints not dampen your adventurous spirit. There are countless incredible vacation destinations worldwide where you can create unforgettable memories without overspending. Whether you're an intrepid explorer or a budget-conscious student, our list of ten cheapest travel destinations ensures a wealth of experiences without compromising on the fun.
Affordable Places to Visit Around the World
If you're making plans to travel in 2023, then here are some of the more affordable destinations you must consider. These places offer adventure, culture, entertainment, and nature, all without having to spend a lot of money. The 13 places included on this list are relatively unexplored, and if they are, they're probably not known for the real reasons why you should visit there.
1. Yelapa:
Starting off with someplace closer to home, Yelapa in Mexico offers a refreshing alternative to the typically touristy spots like Acapulco and Mexico City. Yelapa is more authentic and also less expensive. What's more, the boat trip from Puerta Vallarta gets you into the right mood to discover this gem of a place. More like a natural sanctuary, Yelapa offers the opportunity to spend a few days amidst nature, but in very affordable comfort. You can easily afford to rent an entire bungalow to yourself for a fraction of what it costs in an upscale resort town.
2. Gaziantep:
Now, Turkey is probably the last destination you may think of when coming up with affordable travel spots. But you don't really need to burn a hole in your pocket to enjoy the pleasures of Turkey. The city of Gaziantep, for example, is an often neglected treasure in this historical wonderland. It is easily accessible from Istanbul and is the best place to treat yourself to authentic Turkish cuisine in the country. It is also less touristy and commercialized than the bigger tourist centers of the country. All in all, an ideal place to visit at any time of the year.
3. Barcelona:
Barcelona is one travel destination that deserves to be known for more than its passion for football. It is one of the culturally richest places to travel in Europe as well as one of the most affordable. When you travel to Catalan, you get to choose from many different kinds of experiences. For example, you can relax on the pristine beaches or satisfy your intellectual curiosity by visiting some excellent museums.
4. Bolivia:
Tucked away in the heart of South America, Bolivia captivates with surreal landscapes, including the famous salt flats of Uyuni and the mystical Lake Titicaca. This budget-friendly gem offers affordable lodging, pocket-friendly meals, and local transportation options, making it perfect for adventurous souls seeking unique experiences.
5. Zagreb:
The capital of Croatia, Zagreb offers some of the most unique and breathtaking combinations of history and nature. You get to experience the unique blend of Austrian and Hungarian traditions as well as the beautiful mountains that embrace the city. Food is not only delicious but surprisingly cheap, even at some of the fancy hotels and restaurants. You could spend another day or two walking through the mountain regions which are not far off from the main city center. Overall, this is a trip that you won't regret.
6. Zanzibar:
This is one of the few places that everyone has heard about but few care to probe deeper. Those who make the effort, cherish the memories for a lifetime. Zanzibar is not just an affordable travel destination, but an unforgettable lesson in history, culture, and adventure. Part of the oldest travel routes in the world, Zanzibar evokes a sense of wonder and adventure. Known best for its exotic bazaars, crystal clear beaches, and unique architecture, Zanzibar otherwise offers a gastronomic experience like few other places. Thanks to the favorable exchange rate, you can do a lot with a limited budget during your travel to Zanzibar.
7. Bulgaria:
A hidden treasure in Europe, Bulgaria allures visitors with its rich history, diverse culture, and natural beauty. From Sofia's captivating medieval architecture to the ski slopes of Bansko, Bulgaria caters to budget travelers with its budget-friendly accommodations and hearty, affordable cuisine.
8. Indonesia:
Indonesia's vast archipelago invites exploration with its tropical beaches, ancient temples, and vibrant cities. From Bali's allure to the cultural charm of Yogyakarta and Jakarta, Indonesia offers a wealth of experiences without breaking the bank. Embrace local street food and opt for budget accommodations to immerse yourself in the country's diverse offerings.
9. Namibia:
If you think you've seen all of Africa without having visited Namibia, think again. Despite being right next door to the very popular South Africa, Namibia tends to fall off the radar for most tourists. But for the budget traveler, Namibia is paradise. There are loads of activities that you can undertake on a budget. You could go on a jeep safari in the Namib Desert or settle yourself for a quiet day on the beach. Accommodation, food, and transportation are extremely cheap. It is a perfect place for those who want to see virgin landscapes free from commercial exploitation.
10. Morocco:
Step into the enchanting world of Morocco, where vibrant markets, majestic deserts, and ancient cities await. Affordable lodging and delicious street food make Morocco a top pick for those seeking a budget-friendly cultural experience.
11. Cambodia: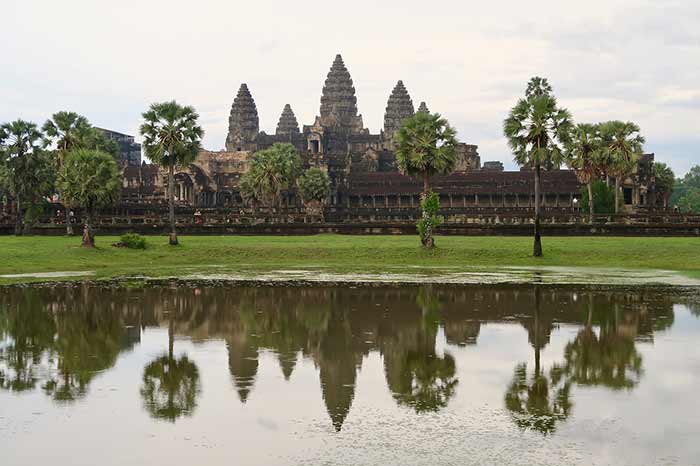 Home to the awe-inspiring Angkor Wat temple complex, Cambodia is a budget-conscious traveler's dream. From ancient ruins to stunning beaches in Sihanoukville and the floating villages of Tonle Sap, Cambodia offers a wealth of budget-friendly experiences. Embrace affordable guesthouses and indulge in local delicacies for an enriching adventure.
12. Colombia:
With its troubled past behind it, Colombia has blossomed into a captivating destination. From the colorful streets of Cartagena to the lush coffee regions, Colombia offers diverse experiences at an affordable price. Budget-friendly accommodations and dining options make it an attractive choice for exploring South America on a budget.
13. Fiji:
People think they've explored Fiji if they've explored it once, but that is far from the truth. Although it is perceived as being very expensive, Fiji offers a very friendly environment for backpackers and budget travelers. Of course, it costs nothing to take in the stunning seascapes and mountains that the country has to offer. You can relax on the white beaches while imagining yourself as an explorer from earlier times. The cuisine is at par with some of the fanciest European destinations. Fiji offers everything to make your vacation memorable.
Conclusion:
Don't let budget constraints hold you back from exploring the world's wonders. These ten budget-friendly travel destinations prove that adventure, culture, and breathtaking landscapes can be enjoyed without straining your finances. Embrace your wanderlust, plan wisely, and embark on a memorable journey that won't break the bank. Happy travels!
Hand-Picked Content:
news via inbox
Sign up and never miss out on the latest news and updates at HighStuff