Best Electric Trucks Leading The Change In Innovation and Luxury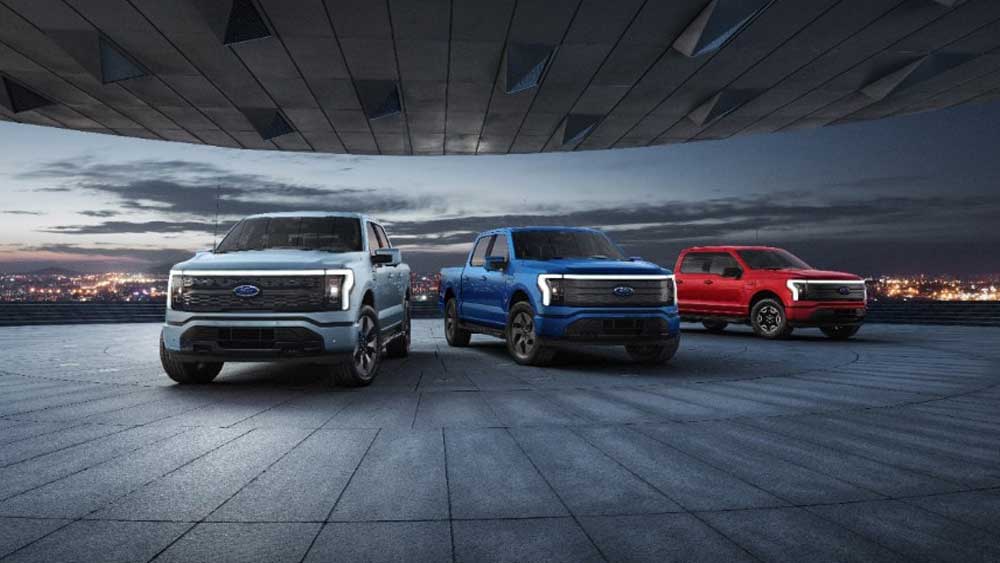 The electric transformation has made a significant impact on the automotive sector, with pickup trucks also fully embracing this change. Established manufacturers like Tesla and Ford and emerging startups like Lordstown Motors are vying for success in this field, but only a select few will truly excel. Here, we present our 5 best electric trucks that are worth your investment in 2023 and 2024.
Top 5 Electric Pickup Trucks for Eco-Friendly Hauling
We selected these electric trucks considering their acceleration, handling, comfort, cargo capacity, efficiency, affordability, and driving pleasure.
1. 2024 Rivian R1T
The Rivian R1T is a standout in the world of luxury trucks, combining power, speed, and eco-friendliness. With a staggering 835 horsepower, it races to 60 mph in just 3.0 seconds, outpacing the Ford Mustang Shelby GT500. Towing capabilities are robust, efficiently handling up to 11,000 pounds, all while maintaining near-silent operation.
Inside, the R1T exudes an upper-class, outdoorsy vibe. A massive 16.0-inch touchscreen dominates the dash, and luxurious leather adorns the seats. While the electric trucks are niche to some degree, the R1T faces competition from the Ford F-150 Lightning, Chevrolet Silverado EV, and GMC Hummer EV SUT. Still, none quite matches the Rivian's prowess.
The 2024 model introduces a performance version with a more affordable two-motor powertrain and a Drive Cam feature for recording trips. The R1T's specs range from a Standard battery with 270 miles of EPA-estimated range and 600 horsepower to the Max battery boasting 400 miles of range. The Performance Max battery delivers 700 horsepower but sacrifices 50 miles of range. The Quad-Motor variant offers the most power with a 314-mile range, but we'd opt for the non-performance Max battery for the best balance.
| | |
| --- | --- |
| Range | 270-400 miles |
| Power | 600-835 hp |
| 0-60 mph | 3.0-3.4 seconds |
| Max Towing | 11,000 lb |
| Max Payload | 1,760 lb |
| Battery Capacity | 105-180 kWh |
| Price starting from | $74,800 |
2. 2024 Ford F-150 Lightning
The Ford F-150 Lightning stands as a true American automotive icon, with the F-Series maintaining its position as the best-selling vehicle in the USA for decades. Ford's electric F-150 Lightning is a groundbreaking addition to this legacy, surpassing competitors like GM and Stellantis. While brands like Rivian offer the best electric trucks, none can match Ford's production capacity. Upcoming rivals like the 2024 Chevrolet Silverado EV and GMC Sierra EV will test its dominance.
Under the hood, the F-150 Lightning boasts an electric powertrain with a formidable 580 horsepower and 775 lb-ft of torque in the Extended Range model, achieving an estimated 320-mile range. Electric trucks face towing capacity and range impact challenges, and top-of-the-line variants are costly. If we can ignore this, the F-150 Lightning represents a monumental shift in the pickup class.
For 2024, the Lightning introduces the exclusive Platinum Black edition at $93,290, limited to 2000 units. Other trims receive keyless entry and enhanced BlueCruise 1.2 hands-free driver assistance. Notably, the ProPower onboard generator activates upon unlocking, benefiting 2022 and 2023 models via over-the-air updates.
The team at HighStuff recommends the XLT trim, albeit with the Extended-Range battery pack and the 312A High package for long-distance and towing needs. This package bundles valuable features like adaptive cruise control, Pro Power Onboard, warmed seats and steering wheel, electric tailgate, in-dash navigation, and more.
| | |
| --- | --- |
| Max Range | 320 miles |
| Power | 452-580 hp |
| 0-60 mph | 3.8 seconds |
| Max Towing | 10,000 lb |
| Max Payload | 2,000 lb |
| Battery Capacity | 98-131 kWh |
| Price starting from | $42,000 (est) |
Also read: 5 Aftermarket Parts For Your Ford F-150
3. 2024 Chevrolet Silverado EV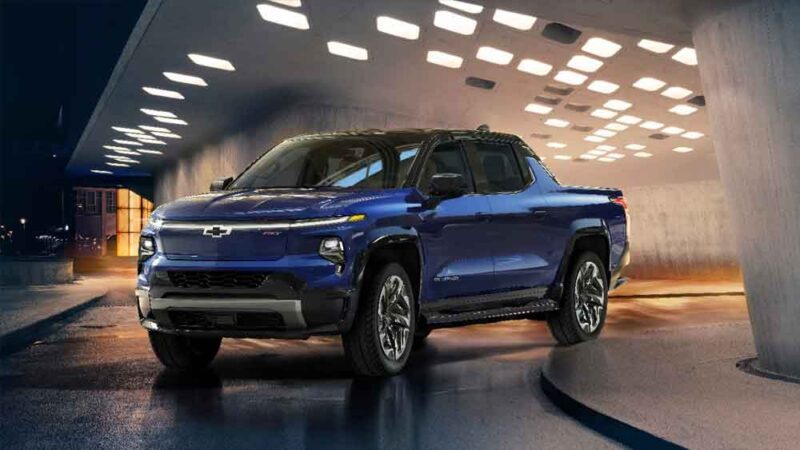 The recently unveiled Chevrolet Silverado EV packs some remarkable features. With a whopping 754 horsepower and a maximum 450-mile range, this all-electric pickup is set to impress. It brings back the Midgate for innovative storage solutions, and reservations are already in high demand.
Beneath the hood, the eTrunk offers secure, weatherproof storage, and the Crew Cab's modular console has room for a lunch cooler with a 7-gallon capacity. The RST trim's bed is 5 feet and 11 inches long, but the Multi-Flex Midgate allows a massive passthrough to expand the load floor to 10 feet and 10 inches.
The Silverado EV promises keyless entry, 3D animations on a 17-inch LCD infotainment display, an 11-inch reconfigurable digital instrument cluster, wireless charging, Super Cruise semi-autonomous driving, and more.
In terms of performance, the entry-level WT trim delivers 510 horsepower, while the RST boasts 754 hp and over 780 lb-ft of torque. The Silverado can tow up to 20,000 lbs with the maximum tow package (that will be available later).
The WT trim arrives in spring 2023, and the RST First Edition comes in the fall. Prices start at $52,000 for the WT and $106,895 for the RST First Edition, making it competitive in the electric pickup market, though more powerful rivals exist.
| | |
| --- | --- |
| Max Range | 450 miles |
| Max Power | 754 hp |
| Torque Over | 780 lb-ft |
| 0-60 mph | 4.5 seconds |
| Max Towing | 20,000 lbs |
| Battery Capacity | 200 kWh |
| Price starting from | $52,000 (est) |
4. 2023 GMC Hummer EV SUT
The iconic Hummer makes a stunning return, this time as the electric GMC Hummer EV pickup. Don't be fooled by its eco-friendly nature; this beast packs a 1000-hp electric punch, racing to 60 mph in just 3.3 seconds. Whether you're navigating boulders or traffic, the rear-wheel steering system and Crab mode have you covered. While it may not be the typical workhorse, it's a playground on wheels and certainly one of the best electric trucks the money can buy.
Now, for its sophomore year, the GMC Hummer EV SUT gains an array of new exterior shades. The Edition 1 model has had its run, making way for the Hummer EV3X as the top trim. Opt for it, even though it's pricier, as it includes desirable features like an adjustable air suspension, GM's Super Cruise hands-free driving, and a colossal 13.4-inch infotainment display. The EV2X offers a less potent two-motor setup, while the EV2 will grace us in 2024. The Hummer's rebirth is electrifying, both literally and figuratively!
| | |
| --- | --- |
| Range | 329 miles |
| Power | 1,000 h |
| 0-60 mph | 3.3 seconds |
| Max Towing | 7,500 lb |
| Max Payload | 1,300 lb |
| Battery Capacity | 205.0 kWh |
| Price starting from | $110,295 |
Read Also: Best Luxury Electric SUVs
5. 2024 Tesla Cybertruck
The highly anticipated Tesla Cybertruck initially set for production in late 2021 but now delayed to 2023, has generated immense interest with numerous pre-orders. One of the best electric trucks of the present era was initially touted to start at an enticing $39,990 for the single-motor version, but given Tesla's desirability and price increases, it's likely to exceed $50,000 in 2024.
The Cybertruck shares similar dimensions to the Ford F-150 Lightning. It measures 231.7 inches in length, 75 inches in height, and 79.8 inches in width. It boasts an adjustable air suspension for impressive approach and departure angles.
The vehicle lineup includes single-motor RWD, dual-motor AWD, and tri-motor AWD with 0-60 mph in 6.5s, 4.5s, and 2.9s respectively.
Expect the top-tier tri-motor Cybertruck to exceed 1,000 horsepower, similar to the Model S Plaid sedan. Furthermore, it offers a remarkable towing capacity of 14,000 lbs, a crab walk function, and rear-wheel steering.
Regarding range, Tesla aims for 250 miles for the single-motor version, over 300 miles for the dual-motor, and more than 500 miles for the tri-motor on a single charge. Charging at Tesla Supercharger stations may add around 200 miles in 15 minutes at 250 kW. However, the Cybertruck's weight may slightly affect the range number compared to its sedan counterpart. EPA ratings will provide more precise data in the future.
| | |
| --- | --- |
| Range (Expected) | 250-500 miles |
| Power | 1000+ hp |
| 0-60 mph (tri-motor) | 2.9 seconds |
| Max Towing | 14,000 lb |
| Max Payload | N/A |
| Battery Capacity | N/A |
| Price (Expected) | $40,000-$70,000 |
Wrapping Up:
The future of pickup trucks is electrifying, as showcased by these five best electric trucks. From the versatile Ford F-150 Lightning to the futuristic Tesla Cybertruck, each offers unique performance, range, and utility. With more automakers joining in, options will grow, catering to eco-conscious consumers like you, paving the way for a sustainable trucking future.
Read More: Exploring The Best GT Cars For The Ultimate Road Trip
Best Electric Trucks of 2023 and 2024 – FAQs
What is the Best Electric Pickup Truck for 2024?
According to the US. News and CarandDriver, the 2024 Rivian R1T is the best electric truck you can buy right now, with an overall score of 9.4 out of 10 from the former and 10 out of 10 from the latter.
What is the best-range electric pickup truck in 2023?
Currently, the Rivian R1T is the longest-range electric truck in the market, with up to 400 miles of drive range. The Silverado EV, with a claimed 450 miles, and the Cybertruck, with 500 miles, are yet to grace our roads.
Which is the fastest electric pickup truck in the market?
The 2024 GMC Hummer EV and the Rivian R1T, with 0 to 60 mph acceleration time of 3.0 seconds, are the fastest electric pickups in the market. The Cybertruck claims to hit the same speed 0.1 seconds earlier but has yet to hit the roads.
news via inbox
Sign up and never miss out on the latest news and updates at HighStuff