Top 10 Luxury Shoe Brands That Are Famous in the World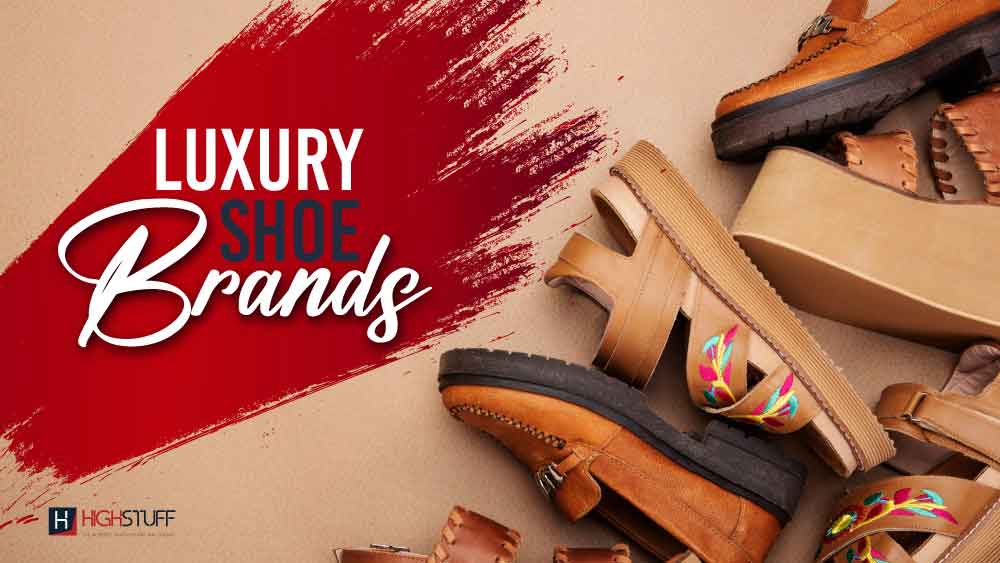 Whenever we talk about luxury shoe brands worldwide, Gucci, Prada, and Luious Vitton are at the top of our minds. One thing that makes any brand a luxurious one is the excellence, unparalleled style, class, and exclusivity that they have to offer.
Many of them have a legacy and prestige of many decades that sets them superior to every other brand. Rich histories and associations with royals of the state often make some brands almost immortal in the high-end fashion industry.
In this piece, we will dive into the top 10 expensive luxury shoe brands that have taken over the fashion world and have managed to place themselves as a status symbol.
Most Expensive Luxury Shoe Brands 2023
1. Gucci – Best Luxury Footwear Brand
Founded by Guccio Gucci in Italy, the ultimate fashion icon GUCCI does not need any introduction. Their luxury, modern, and trendy shoes are loved by almost every celebrity. From boots to slippers and sneakers, they offer a wide variety of footwear that is designed with ultimate perfection.
What Makes Gucci so Unique?
The exclusivity and collaboration with every major artist, singer, actor, and other leading brands of the industry sets them as a symbol of success and excellence. Trevor Noah, Harry Styles, Jennifer Lopez, and Beyoncé are just a few to name who wore GUCCI products to star-studded events like GRAMMYS.
Top Gucci products are:
Men's Gg Rhyton Sneaker – Sale Price: $890
Men's Horsebit Loafer – Sale Price: $1,100
Men's Loafer With Horsebit – Sale Price: $950
2. Prada – Best Minimalist Style Luxury Shoe Brand
Prada is another high-end fashion brand that has been associated with Princess Diana as well. What sets it apart is that the Prada heels are luxurious and comfortable at the same time – and that's something rare. This is a comfortable, luxury women's footwear brand that can be worn every day.
You would be fascinated to know that:
Prada, in collaboration with another industry giant, Adidas, has launched a new and exclusive football shoe collection in May 2023.
Their top products are:
Brushed leather slingback pumps with floral appliques – Sale Price: $ 1,490
Brushed leather slingback pumps – Sale Price: $1,343
Chocolate brushed leather loafers – Sale Price: $1,200
3. Louis Vuitton – Iconic Luxury Fashion and Shoe Brand
You might be wondering why Louis Vuitton is on this list. It is an open fact that not only handbags and purses of LV is widely famous, but their luxury shoe collection is often worn by elites of the elites. Their iconic classic style combines modern luxury that gives it an edge over other brands.
Notable celebrities who love LV are Gigi Hadid, Rihanna, Hailey Bieber, Zendaya, and many more A-lister celebs.
Their top products are:
LV Skate Sneaker – Sale Price: $1,340
LV Trainer Sneaker – Sale Price: $1,380
LV Oasis Mule – Sale Price: $1,467
4. Chanel – Elegant and Luxury Designer Shoes
Chanel is the most classic and timelessly elegant name in the luxury fashion world. It not only deals in designer jackets, handbags, or luxury makeup products, but it has a wide range of comfortable footwear as well. Founded by Coco Chanel in 1910, it has a rich history and legacy. Not only their refined craftsmanship is impeccable, but their branding and marketing strategies also give tough competition to other prominent brands in the market.
Read Also: Boost Your Business Growth With Cutting-edge 21st Century Marketing
Fun Fact: Meghan Markel has been seen wearing flat leather ballet shoes of Chanel, and it made rounds on the internet for many days.
Their top products are:
SANDALS Calfskin, Cord & Imitation Pearls Black – Sale Price: $2,300
SLINGBACKS Iridescent Tweed & Lambskin Black – Sale Price: $1,075
PUMPS Patent Calfskin Yellow & Black – Sale Price: $1,100
5. Balenciaga – Avent-grade and Edgy Luxury Shoes
While Balenciaga has set itself apart from its competitors, it has something more to offer. Their high-end craftsmanship and perfect attention to detail have also revolutionized the footwear industry. It has been promoted by many celebrities all around the world. Kim Kardashian, Nicole Kidman, and Dua Lipa are some of the notable names who have walked for Balenciaga products' showcase.
Their top products are:
Women's Camden 160mm Sandal In Black – Sale Price: $1,450
WOMEN'S CAMDEN 160MM SANDAL WITH RHINESTONES IN BLACK – Sale Price: $3,050
Women's Technoclog In Crystal – Sale Price: $8,350
6. Jimmy Choo – The Leading Global Luxury Brand
The sophisticated design and supreme Italian craftsmanship make this London-based brand a leading one in the world. From global celebrities to musicians, fashion icons, and royalty, Jimmy Choo is widely loved. Their high-end fashion shoes, when combined with crazy marketing strategies, captured international attention. You would be fascinated to know that Jimmy Choo Pumps are the favorite shoes of Kate Middleton.
The top products of Jimmy Choo are:
Saeda 100 Ivory Satin Pumps with Crystal Embellishment – Sale Price: $1,125
Aurelie 65 Latte Patent Leather Pointed Pumps with Pearl Embellishment – Sale Price: $895
Sacaria/PF 120 White Satin Platform Sandals with All-Over Pearl Embellishment – Sale Price: $2,050
7. Fendi – Iconic Luxury Accessories Known for Precision and Intricate Designs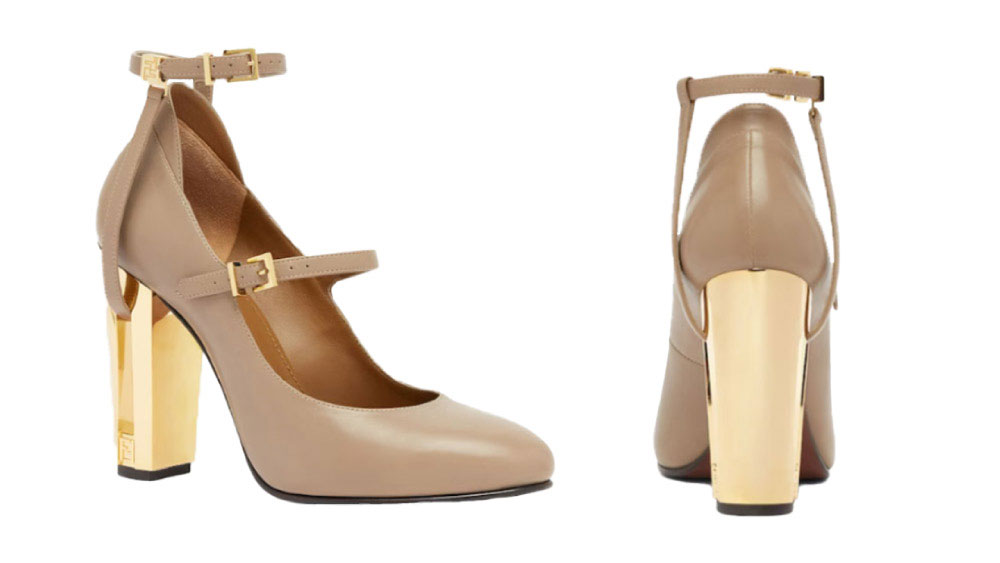 Synonymous with modern luxury and lavish styling, Fendi shoes do not only look good, but they offer a high level of comfort and durability as well. They always keep the fashion game up with experimentation and new designs. The unparalleled creativity and utilization of high-quality materials make them unique.
Their following has some of the most notable A-lister celebrities and fashion influencers from all over the world. Their combination of heritage, creativity, and celebrity appeal has made its shoes not just a fashion statement but a symbol of prestige.
The top-rated products Fendi has to offer are:
Delfina Black leather high-heeled boots – Sale Price: $4,600.00
Fendi First Pale pink leather high-heeled slingbacks – Sale Price: $1,450.00
Delfina Dove grey leather high-heeled court shoes – Sale Price: $1,250.00
8. Manolo Blahnik – Most Exquisite High-End Luxury Footwear
Manolo Blahnik is the ultimate brand to go for if you love designer footwear that unmatched style and aesthetic. Premium pricing, attention to detail in the design and intricate touches make it truly a brand that speaks magnificence.
Their fandom has some great names. Besides royals, many celebrities like Jennifer Aniston, Sofia Richie, Blake Lively, Victoria Beckham and fashion icon Anna Wintour also love to wear them. The timeless quality and design have made every luxury fashion lover their dedicated customer.
The best-selling products of Manolo Blahnik are:
TARASHI Black Calf Leather Cut Out Knee High Boots – Sale Price: £1,625.00
LATEXA Monochrome Satin Embellished Buckle Pumps – Sale Price: £1,095.00
NADIRA Red Satin Jewel Buckle Pumps – Sale Price: £895.00
9. Christian Louboutin – Best Premium Material Shoes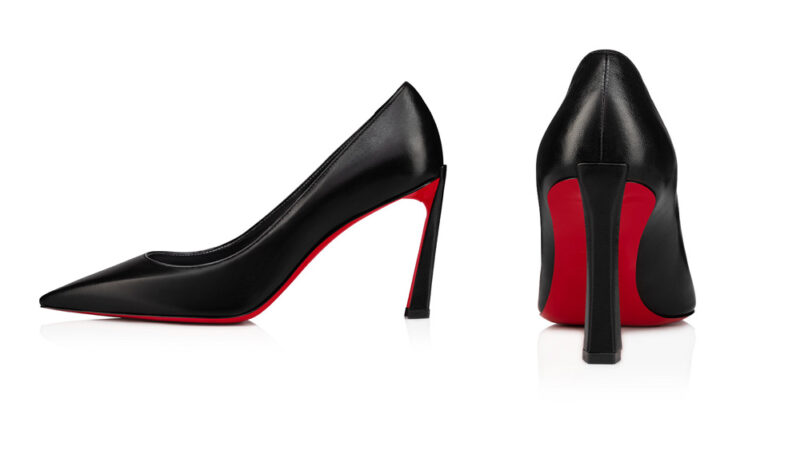 Created by French-Egyptian fashion designer Christian Louboutin, this brand is a must-have in every luxury footwear collection or list. Fans of Christian Louboutin consider these products as works of art rather just just another high-end fashion brand. They have created a lasting impact in the fashion industry by introducing their signature heels.
What makes them unique?
They have exclusive rights to make the shoes' bottoms red whenever the color of the outer portion is of another color. This red sole is their signature style that no one can copy or ignore. Especially successful women love to buy these shoes as they signify their confidence and the inner diva.
Women most wanted shoes from Christian Louboutin are:
Condora Pumps – Sale Price: $859.00
Me Dolly Mules – Sale Price: $761.00
Miss Sab Pumps – Sale Price: $795.00
10. Salvatore Ferragamo – Top Italian Designer Luxury Shoe Brand Exclusively for Women
Salvatore Ferragamo is widely famous for experimenting with new designs and styles in the footwear industry. One of the most loved inventions is their cork-wedged heel design that left the entire world in awe. They have transformed the meaning of luxury fashion for women and shaped the trends that are still followed by many brands.
Which is the most special sandal designed by Salvatore Ferragamo?
Designed for the iconic American actress Marilyn Monroe, the Stiletto heel was created with alligator skin. It is one of the most famous inventions of Salvatore Ferragamo, which was considered the most aesthetic and luxurious sandals of that time.
Top products of Salvatore Ferragamo:
Sandal with asymmetric bow – Sale Price: $1250.00
Platform sandal with dégradé crystals – Sale Price: $1790.00
Pump with contoured heel – Sale Price: $1090.00
Conclusion
Many people like to buy from luxury shoe brands because it is like investing their money in something that lasts long and offers supreme quality. These brands have set themselves as the status of class, and they symbolize excellence, style, and success. Well-thought marketing and branding strategy and their commitment to providing top-notch quality have made them famous worldwide.
news via inbox
Sign up and never miss out on the latest news and updates at HighStuff