Top 12 Most-Coveted Luxury Luggage Tags of 2023 For First-Class Travelers!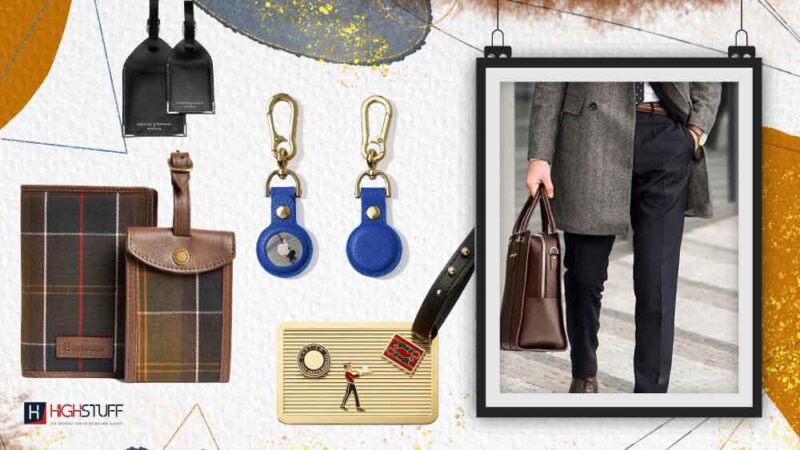 Luxury luggage tags are the epitome of refined travel accessories, enhancing your luggage while ensuring it's easily identifiable. In this guide, we'll explore the top luxury luggage tags of 2023. Each one exudes elegance and practicality. Whether you're jet-setting for business or leisure, these tags will make your luggage stand out in style!
Indulge in True Opulence with Top Luxury Luggage Tags of 2023!
1. Apple X Not Another Bill AirTag
Apple's AirTag is a high-tech cool new gadget of 2023 that provides the solution for locating your suitcase easily. Additionally, you can customize it with colored leather from Not Another Bill for a personal touch.
Material: Apple's AirTag offers a high-tech solution for locating your suitcase. Customize it with colored leather from Not Another Bill to add a touch of personality.
Design: The AirTag connects to your iPhone, allowing you to effortlessly locate your luggage, even in bustling airports. Not Another Bill offers various leather options to customize your AirTag, making it uniquely yours.
Price: $25
Where to Buy: Not Another Bill
2. Barbour Tartan Leather-trim Passport Luggage Tag Set
Barbour's luggage tag set combines timeless tartan design with premium leather trim. Plus, it's a perfect blend of heritage and luxury, ensuring your luggage stands out with sophistication.
Material: The Barbour Tartan Leather-trim Passport Luggage Tag Set combines the richness of genuine leather with the timeless charm of tartan fabric. No wonder, this fusion of materials exudes a sense of tradition and luxury.
Design: The tag set includes two matching tags, making it perfect for couples or those who appreciate having a spare. Not to mention, the classic tartan pattern harmoniously complements any luggage.
Price: $75.77
Where to Buy: Harrods
3. Carl Friedrik Leather Smart Holder Strap
Carl Friedrik's cognac leather luggage tag adds a touch of class to your travel essentials. With a peel-back door revealing your address details, it's a stylish choice that doesn't break the bank.
Material: Carl Friedrik showcases its expertise in premium leather goods with this luggage tag. Moreover, the cognac leather exudes warmth and sophistication.
Design: The peel-back door concealing address details add a touch of innovation to this classic tag. It ensures your personal information is both secure and discreet.
Price: $69.46
Where to Buy: Harrods
4. Cartier Diabolo de Cartier Travel Tag
For the epitome of luxury, Cartier offers a gold-finish travel tag that's simply exquisite. Additionally, its elegant graphic badges will inspire grand adventures. Available at Cartier boutiques, this tag is a statement piece for those who demand the very best for their vacation destinations!
Material: Cartier, a name synonymous with luxury, offers a travel tag with a gold finish that exudes opulence. Plus, the intricate detailing showcases the brand's commitment to excellence.
Design: The elegant graphic badges on this tag invoke a sense of grandeur and excitement for your upcoming journeys.
Price: $707
Where to Buy: Harrods
5. Aspinal of London Leather Luggage Tags Set
Aspinal of London presents a set of croc-scale leather luggage tags with metallic corner protectors. They're the epitome of luxury and come with a sturdy buckle for added protection.
Material: Aspinal of London, renowned for its leather craftsmanship, presents a set of luggage tags made from croc-scale leather. Moreover, the metallic corner protectors ensure your tags remain pristine.
Design: These tags feature a sturdy buckle, providing both rigidity and added protection to your personal details. Also, the set includes two tags, allowing you to use them on multiple pieces of luggage or as a thoughtful gift.
Price: $69
Where to Buy: Harrods
6. Thom Browne Leather Hector Luggage Tag
Thom Browne's luggage tag is a testament to luxury in simplicity. Since it's crafted with precision, it's a sleek and stylish addition to your travel ensemble.
Material: Thom Browne, a master of understated luxury, offers a leather luggage tag that stands as a testament to simplicity and refinement.
Design: The meticulous attention to detail and craftsmanship ensures this tag is not just a practical accessory but also a fashion statement. With Thom Browne's iconic tricolor stripes, this tag is a subtle yet distinct addition to your luggage.
Price: $480
Where to Buy: Harrods
7. Aviteur Caramel-Shade Woven Leather Tag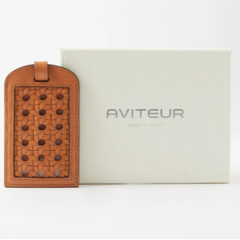 Patricia Gucci's brand, Aviteur, offers a caramel-shade woven leather tag. Above all, this tag complements Gucci luggage beautifully, making a striking fashion statement. Purchase it from Aviteur's official website.
Material: Patricia Gucci's Aviteur presents a tag crafted from caramel-shade woven leather, reflecting the brand's extraordinary pedigree.
Design: This tag beautifully complements Gucci luggage, creating a cohesive and stunning travel ensemble. Aviteur's commitment to quality shines in every aspect of this tag, from its design to its durability.
Price: $347
Where to Buy: Matches Fashion
8. Connolly Vintage Racer-Themed Luggage Tag
If you're looking for a luggage tag that combines style with a hint of nostalgia, Connolly's vintage racer-themed tag is perfect. It's a nod to the brand's heritage as saddlers and shoe smiths.
Material: Connolly's vintage racer-themed tag brings a touch of heroism and hedonism to baggage identification. Crafted from authentic leather, it embodies the brand's heritage as saddlers and shoemakers.
Design: The tag features a vintage racing theme that sets it apart, making your luggage instantly recognizable. Plus, an authentic leather knot securely attaches the tag to your bag, ensuring it's the first to arrive at the carousel.
Price: $139
Where to Buy: Connolly
9. Smythson Classic Luggage Tag
Smythson's classic luggage tag is a timeless choice. With a wide range of colors to choose from, it's both functional and fashionable. Personalize it and set off on your ultimate vacation!
Material: Smythson's classic luggage tag is available in a plethora of shades, ranging from understated taupe to vibrant neon yellow. That's why, it's a testament to their commitment to timeless elegance.
Design: This tag is the epitome of old-fashioned reliability, and you can choose a color that best suits your style.
Price: $107
Where to Buy: Harrods
10. Burberry Electric Blue Grain Rectangle Tag
Burberry's luggage tag does more than just identify your luggage; it also doubles as a card case. Versatile and stylish, it can be attached to your bag or worn around your neck.
Material: Burberry's luggage tag is an electric blue-grain finish that is a symbol of contemporary luxury.
Design: This tag can be suspended on a lanyard, worn under your T-shirt, or used as a slimline card wallet, making it an incredibly versatile travel companion. Not to mention, Burberry's reputation for craftsmanship is evident in the quality and functionality of this tag.
Price: $618
Where to Buy: Burberry
11. Globe-Trotter X Golf Le Fleur Spectral Bellboy Tag
Globe-Trotter's collaboration with Golf le Fleur offers a unique, high-society tag with a debossed logo. Undoubtedly, it's an elegant blend of style and intrigue.
Material: The collaboration between Globe-Trotter and Golf Le Fleur results in a tag made from premium materials. Furthermore, the tag boasts top-stitching and static, tactile leather, ensuring both durability and tactile appeal.
Design: The tag features a debossed logo of the spectral bellboy, adding an element of intrigue and uniqueness to your luggage.
Price: $76
Where to Buy: Globe Trotter
12. Bennett Winch Tuscan Leather Luggage Tag
Bennett Winch's premium Tuscan leather tag features a brass belt for adjustability and traditional leather flap access to your ID details. It's traditionalism done right! Fans of classical Luxury Rolex Watches will love it!
Material: Bennett Winch's Tuscan leather luggage tag is a testament to the brand's commitment to quality. Crafted from premium Tuscan leather, it exudes refinement and luxury.
Design: The tag features a chic brass belt that not only adds a touch of elegance but also allows you to adjust the tightness to securely fasten it to your luggage. Plus, The ID section can be conveniently accessed through a highly traditional leather flap to the rear of the tag, adding a timeless touch to this modern accessory.
Price: $158
Where to Buy: Bennet Winch
Luxury Luggage Tags as Fashion Statements – When Did They Become So Popular?
Luxury luggage tags, once just for labeling bags, have turned into fashion statements in recent years. This change started a few years ago when famous fashion designers began to see the potential of making these tags more stylish. First, they added their special designs, quality materials, and top-notch craftsmanship to make them stand out.
Plus, thanks to social media, people began to show off their fancy luggage tags as part of their travel fashion. Now, luxury luggage tags aren't just for identifying bags; they're a way to show your style and sophistication while you travel, making every trip a bit more glamorous. For sure, they've become a must for the life of a traveler!
Conclusion
Take your travel experience to another with these top luxury luggage tags of 2023. Each tag combines fashion and functionality, ensuring your luggage not only stands out but also reflects your impeccable taste. Whether you prefer classic elegance or cutting-edge technology, these tags have you covered. Explore these options and travel in style, leaving an impression wherever you go!
news via inbox
Sign up and never miss out on the latest news and updates at HighStuff