3 Ways You're Unintentionally Losing Money Every Day
Losing Money Every Day
Even the most budget-conscious shoppers can still waste money each month. You might plan your meals strategically and skip expensive lattes, but it's still possible that you're pushing money out your front door. Part of this is misinformation about smart financial planning, whereas other errors are caused by simply forgetting that certain options exist. Here are three ways you're probably losing money — and ideas for how you can get it back.
Letting a Credit Card Balance Carry Over
Did you know that one in five people thinks that carrying credit card debt from one month to another is a responsible way to manage his or her money? Although it might be tempting to pay only $35 per month, you're probably spending more than that, which means that your debt is accumulating over time at a 15 percent to 20 percent interest rate. You could be spending hundreds per year just in interest because you're not paying off as much as you can.
It's all right if you can't pay off your entire credit card balance every month, but you should try to pay off as much as you can. It's better to pay $75 off a debt of $100 than just the $35 minimum.
Forgetting to Use Gift Cards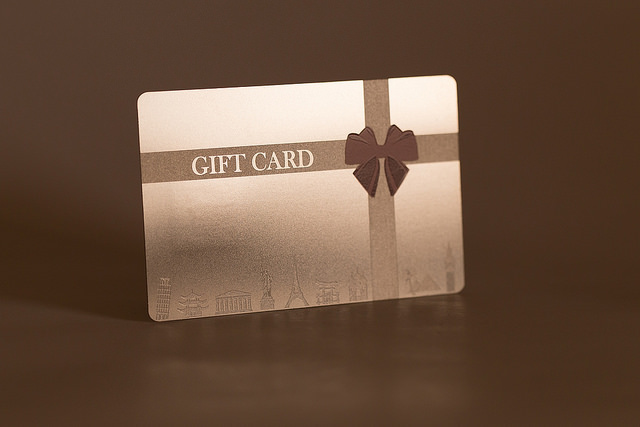 Image via Flickr
Consumers spent $130 billion on gift cards in 2015, but $1 billion of that went unused. Gift cards are often forgotten in the back of wallets or lost in cards, especially if they're for stores and restaurants that the recipient doesn't normally visit. At one point, almost everyone has received gift cards for stores where they've never shopped, so they either ignore the cards entirely or forget that they're an option.
If you receive a gift card for a place you rarely visit, check online gift card exchanges. You might be able to sell your gift card for almost its complete value for cash or exchange it for other locations. This way, vegans who receive Outback Steakhouse gift cards can trade them in for a Whole Foods card they will actually use.
Failing to Update Home Appliances
Just because your home appliances aren't broken doesn't mean they're not performing as well as they should. Older faucet models waste a ton of water — which drives up your bill — and inefficient lights cost more than they're worth. Start with basic home repair, and then work your way to be more efficient. For example, remember to change your HVAC filters and clean your system regularly so that air flows easily through your home and so that your system doesn't work as much. Next, replace old light bulbs with energy-efficient ones.
After you've replaced old equipment, you can try to be proactive to reduce your energy bills. There are specialty gadgets and shower heads that reduce your water use and bathing time to make sure you're not overspending because of hot showers.
Once you make these small changes, you will start to see a host of other ways that money is slipping away from you unexpectedly, from parking fees to excess cable packages. By staying on the lookout for wasted funds, you'll be sure to save more than ever.
news via inbox
Sign up and never miss out on the latest news and updates at HighStuff