Guide to Choose Helmets for Women Motorcyclists
Best Motorcycle Helmets for Women
It feels very exciting when you imagine yourself riding a motorcycle with the wind in your face, and the rumbling sound under your feet. Riding a motorcycle is one of its own kind of experience, however, there should be no compromise on your safety. Without safety measure, you are prone to accidents which can even prove to be life-threatening. No matter how expert motorcyclist are you, you must invest in good and quality helmets that save you from head injuries during an accident. While searching for the best motorcycle helmets for women, remember to consider you own womanly style and its practicality.
There are few types and styles of helmets that suit your needs:
1.  Full Face Helmets:
Image Source: Pixabay
This is the most popular type of helmet, and we all are familiar with- also called big motorcycle helmets. This helmet gives complete protection for head. Not only it saves you from the injuries, but also gives coverage from weather and resistance from wind. If you want to protect and hide your fill face while riding, this is best options which suits your style and fulfills your need. Although, fewer women prefer this type as it is a bit heavy and gives them a feeling of bulkiness. Again, it's up to your comfort level!
2.  Open Face Helmets: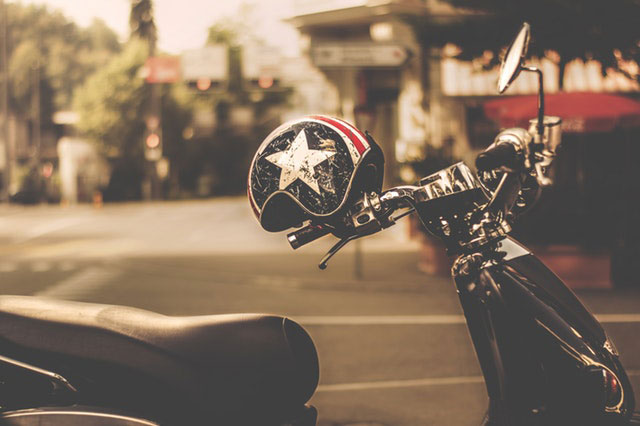 As the name suggests, open face helmets cover only your head. They are also called ¾ helmets which keep your face open. It is one of the widely preferred helmets by women. Open face helmets give less protection to your face, and also don't come with visors which protect your eyes. Given its light weight, flip down shield for weather and wind protection, as well as clear visibility, women prefer this type of helmets which enables the rider to communicate better.
3.  Modular Helmets:
I
mage Source: Pixabay
One of the best thing about this type of helmet is that it gives you both options; to keep it full faced or open faced. It can easily be transformed the way you like. But before buying this type of helmet, remember they are heavier than full faced helmets.
4.  Half Helmets:
Image Source: Pixabay
These types of helmets protect your forehead and the back of your head. If you are a cruiser rider, this is the best option out of other helmets. This type of 'skull-cap' is although lightest in weight, however, gives you least protection. You can also use goggles or sunglasses to protect your face.
5.  Off Road Helmets:
Image Source: Pixabay
They are also called motorcross. These helmets look like full faced helmets but differ in shape with no face shield, angular chin and sun peak. Referring to its design, they are light weight and built for maximum ventilation during summer. Since, they have no face shields, you should wear goggles to protect eyes form dirt. Another plus is that sun peaks protect your eyes from sun. These racing helmets rank high in safety with light weight.
So ladies, given your needs, pick the one which suit you with compromising on your style and fashion.
news via inbox
Sign up and never miss out on the latest news and updates at HighStuff