There are so many charms of a small home but storage isn't one of them. Or is it? With a couple of easy DIY projects you can create storage options as quickly as you can pick up all that clutter off of the floor.
Pegboard:
This solution is super easy and affordable. It's a way to explore using hooks around your home. Mount pegboard to your wall and hang a collection of s hooks, pegs, and other hangers to tame your wild hallway, mudroom, or bedroom. You can use them to organize hobbies, such as knitting or scrapbooking, or to bring order to your office space. Depending on the size of the hooks used, you can hang anything from sweatshirts to book bags, jump ropes to scarves, jewelry to hats, and anything else you can think of. Pegboard can even be used to hang pans and cooking utensils in the kitchen.
Everything remains in sight and within easy reach, which is helpful for two reasons. If it's easy to get to you'll use it more and it might just cut down on kids, spouses, or roommates asking you where things are.
Loft Beds:
They've come a long way since the dorm room scene. Lofted beds look like bunk beds but without the lower bunk, freeing up space down below for a desk or reading nook. You can build your own or buy a kit. If you don't want to take on the full building project, you can achieve a little more space under your bed by putting the bed on risers or elevated casters.
Hooks:
Many people forget about their vertical space when it comes to storage. If you have blank walls, you have storage options. While some hooks screw into your walls, leaving big holes when you take them out, Command Hooks can easily be removed, repositioned, and reused. There are many clever uses for hooks including hanging keys; creating purse and book bag holders near your door; hanging cords, belts, or scarves; and hanging cleaning tools inside closet doors. You can also use Command hooks to hang pants hangars with clips that can hold your children's artwork as part of a revolving display.
Drawers and Cabinets: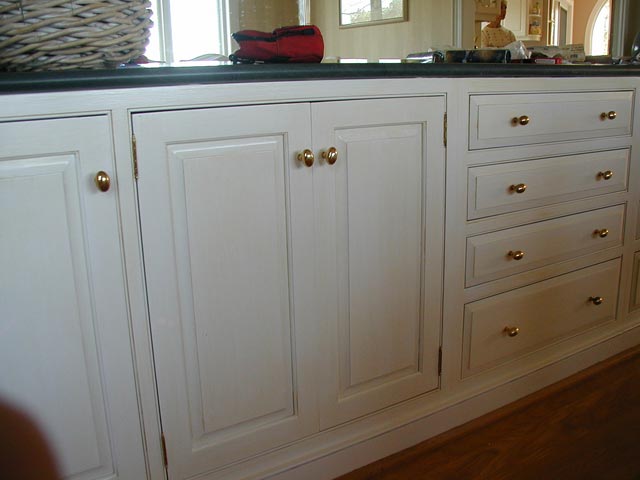 Some of the worst offenders when it comes to non-useful space are drawers and cabinets. If you stack things and use all the space available, items become unreachable. If you don't use the space to its fullest, you quickly run out of room. A quick DIY project in the kitchen can get you started. From pull-out cabinet trays that hold small appliances to maximizing skinny spaces with a spice drawer, you can find easy solutions to organization issues. Another clever idea is hanging pot lids on the insides of cabinet doors with hooks. No drilling and no big expense of buying a custom kitchen organizer.
Living in a small house forces you to be organized by removing the clutter and storing things in the most efficient ways. Organization is easily achieved with these easy storage projects.
Featured Image: Flickr