How to Remodel a Kitchen with Simple Kitchen Remodeling Tips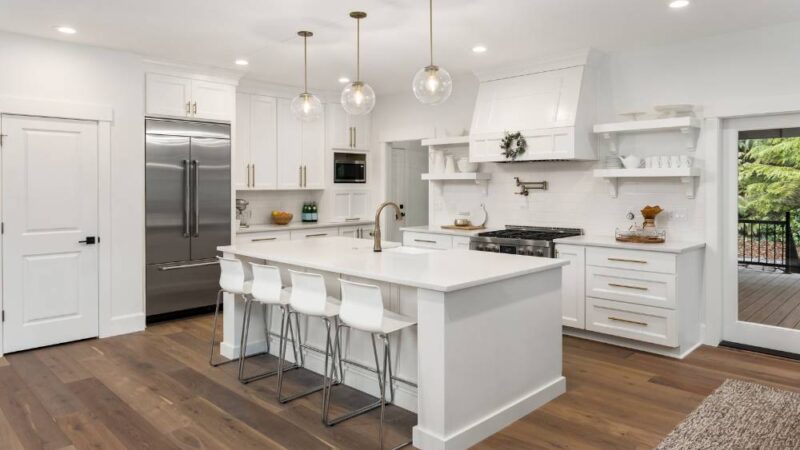 Remodeling your kitchen can be an exciting and rewarding experience. And if done wisely, it can even add to the market value of your house. The following kitchen remodeling tips are simple and practicable.
You won't have to extend your remodeling budget to unreasonable limits to make your kitchen more functional and comfortable.
Tip 1: Organize According to Meal Routines
This is one of the best kitchen remodeling tips for daily efficiency. Identify the most common food preparation times for your family. Create areas in the kitchen for each of these. So, for example, you can have a breakfast area where you place all the appliances and utensils you need to make breakfast every day.
Similarly, you can have another one for lunch and dinner. This reduces the problem of running all over the kitchen to get the things you need to prepare a meal.
Tip 2: Utilize Corners for Maximum Efficiency
Corners can be tricky mainly because they are so hard to get into. The sensible thing to do is to avoid creating tiny, inaccessible corners because it makes those spaces non-functional in addition to creating areas that are difficult to clean. The best way to utilize corners is to create corner cabinets that maximize the storage space while making things accessible.
Another great idea to include in your kitchen remodeling tips is to build drawers in the corners so that you can pull out whatever you need without digging into the back of unreachable cabinets.
Tip 3: Make Proper Use of the Kitchen Island
With simple kitchen remodeling tips, you can design it to serve as a food preparation area, cooking area, or a dining area. However, most people force a kitchen island simply when it is not needed. If you want to build an island in a large kitchen, make sure that it is accessible from the cooking area. The aisles should neither be too wide nor too narrow. This will help you avoid walking long distances to and from the island.
Make sure you maximize storage space by building cabinets and drawers for your island.
Tip 4: Have an Environmentally Friendly Kitchen
Use your kitchen remodeling as an opportunity to create an environmentally friendly kitchen. You can create a recycling center within the kitchen by placing recycling bins in one of the corners. Ideally, the recycling center should be accessible from the island and sink so that you can drop the things to be recycled into the bins easily.
A good idea is to construct cabinets to house the bins so that they are out of sight until they need to be emptied. These simple kitchen remodeling tips can help you create responsibility for the environment within your home.
Tip 5: Stop Hoarding
We admit. Sometimes, it is impossible to resist buying a pretty set of bowls or trays. However, before you know it, these things really pile up and make your kitchen less functional. Organize your appliances and utensils according to how frequently you need them. Kitchen remodeling tips are mainly about prioritizing what you need to get the work done fast.
Push away the waffle maker you haven't used since last Christmas to the back of the cabinet to make room for the daily essentials. You could even consider moving some of the utensils to the cupboard in the dining room.
Tip 6: Organize the Sockets
You may have to consult with the electrician before asking your remodeler to move the sockets around. This is important to ensure that you do not overstep the building regulations for electrical connections. Moving sockets around can make working in the kitchen more efficient. You can have a single or multiple areas to operate kitchen appliances, depending on your own comfort.
For more kitchen remodeling tips, you can even add electrical stations if you are adding a new oven or dishwasher to your kitchen. This will help you avoid the trouble of having extensions trailing over the kitchen walls or floor.
Tip 7: Pay Attention to Lighting
Proper lighting is essential for your safety in the kitchen. Moreover, since kitchen space is very limited, proper lighting helps to make the kitchen look more spacious and open. Identify the dark areas in your kitchen. These tend to be the spaces directly below the top cabinets and the chimney hood. These are also the places where most of the preparation and cooking is done.
According to kitchen remodeling tips, adding lighting under the cabinets and hood will help to make the space brighter. You can also install mood lighting to create an ambience that will make you feel comfortable and relaxed in the kitchen.
Tip 8: Make Your Space Multifunctional
Our list of kitchen remodeling tips would be incomplete without emphasizing the importance of multifunctional spaces. Your kitchen counter can be used as an area for serving or plating meals in addition to a preparation area. You can also use the kitchen island as a place for entertaining company by adding a couple of kitchen stools.
If you have a bigger budget, you can invest in modular kitchen furniture.
Tip 9: Proper Ventilation
Keeping your kitchen properly ventilated is vital for your family's safety. Install a good exhaust system. Having a fire alarm as well as a small fire extinguisher in the kitchen is also highly recommended.
Tip 10: Keep a Grip on the Budget
While following the kitchen remodeling tips, keep a close eye on the budget. Avoid the temptation to spend on expensive high-end appliances or flooring if your current one will do. Think twice before significant design changes such as creating an open kitchen because the added cost might not have any significant effect on the market value of your property.
Of course, these are not all the kitchen remodeling tips that can benefit you, but we hope these will help you get a good start on your kitchen remodeling project. Keeping safety, comfort and efficiency in mind will generally help anybody plan and manage the remodeling process smoothly.
news via inbox
Sign up and never miss out on the latest news and updates at HighStuff